Pasta
Pasta dishes are amazingly versatile. Not only is there a huge variety of pasta shapes and flavors (such as whole grain, spinach, tomato, etc.) to use as a base for your favorite dish,
you can decorate your pasta with a variety of meats or fish, cheeses, sauces, vegetables, herbs, and almost anything imaginable.
Below you will find pasta recipes that include dishes made with chicken, ground beef, pork and shrimp as well as cheese, pepper sauces, pesto sauce, creamy fettuccine sauce, curry sauce and delicious pasta salads.
If you are creative, you can take your love for pasta to a new level by creating your own homemade pasta with a pasta machine (also called pasta maker). Many electric mixers now offer a pasta-making attachment, which makes it even easier to make your own pasta. Whether you enjoy meat or are a vegetarian or vegan, pasta dishes will always offer an endless amount of delicious choices.
Pasta Recipes ▼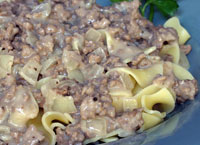 This recipe for beef stroganoff features lean ground beef, which makes this skillet dish easy and gives it a wonderful tender texture.
Ground Beef Stroganoff
features ground beef that is cooked with chopped onions. This beef and onion mixture is then combined with a butter and flour roux and beef broth. Sour cream is stirred just before serving, and this rich and creamy mixture is spooned over your favorite pasta.
Lemon Garlic Shrimp with Fettucine
is a light, elegant and wonderfully flavored dish featuring large shrimp and linguine noodles tossed with a buttery sauce made with lemon, garlic, white wine and spices along with chopped fresh parsley and green onion tops. Red pepper flakes and cayenne pepper are also added for the perfect amount of peppery spice. This fabulous seafood pasta dish cooks in a very short time and couldn't be easier.
This
Macaroni and Cheese recipe
is cheesy and creamy and has just the right blend of spices. It is topped with crumbled bits of bacon and grated Parmesan cheese, giving this pasta dish added flavor and crunch. You can customize this dish by choosing from a variety cheddar cheeses (extra sharp, sharp, mild or even white) as well as pasta shapes. Photo shows this Macaroni & Cheese recipe made with elbow macaroni.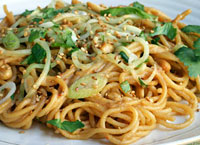 This
Noodles with Peanut Sauce recipe
can be made with Chinese noodles or other long noodles. The noodles are tossed with a sauce made with Tahini, peanut butter, Asian chili paste, minced ginger root, soy sauce and a number of other ingredients that create the perfect balance of zest and flavor, then julienned cucumber, peanuts, sliced green onions, chopped cilantro and sesame seeds are sprinkled over the top.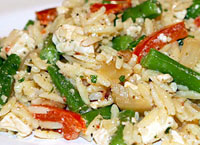 Orzo, Feta and Bean Salad
features an unexpected marriage of ingredients that makes a fabulous salad with vibrant flavor. This salad is made with orzo (rice-shaped pasta) that is tossed with green beans (blanced to a tender crisp), tomatoes, garlic, onions and crumbled feta cheese. These ingredients are then tossed with the perfect tangy oil and vinegar dressing, giving this salad its tangy and fabulous flavor!