Pasta
Pasta dishes are amazingly versatile. Not only is there a huge variety of pasta shapes and flavors (such as whole grain, spinach, tomato, etc.) to use as a base for your favorite dish,
you can decorate your pasta with a variety of meats or fish, cheeses, sauces, vegetables, herbs, and almost anything imaginable.
Below you will find pasta recipes that include dishes made with chicken, ground beef, pork and shrimp as well as cheese, pepper sauces, pesto sauce, creamy fettuccine sauce, curry sauce and delicious pasta salads.
If you are creative, you can take your love for pasta to a new level by creating your own homemade pasta with a pasta machine (also called pasta maker). Many electric mixers now offer a pasta-making attachment, which makes it even easier to make your own pasta. Whether you enjoy meat or are a vegetarian or vegan, pasta dishes will always offer an endless amount of delicious choices.
Pasta Recipes ▼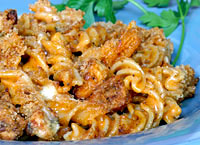 If you enjoy sitting down to a plate of hot and tangy Buffalo wings with a side of blue cheese dip, and likewise enjoy an occasional plate of creamy, hot and steamy macaroni and cheese, you now can enjoy all these flavors together in this
Buffalo Mac and Cheese recipe
! This pasta recipe features chunks of seasoned chicken breast, fusilli pasta, cheddar cheese, crumbled blue cheese and diced celery in a tangy creamy sauce.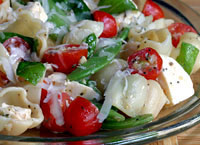 Caprese Pasta Salad
is a varied version of Caprese Salad, which is typically a simple cold salad made with sliced tomatoes, sliced mozzarella cheese, and fresh basil leaves, sprinkled with olive oil and a little salt. This Caprese Pasta Salad recipe combines the tomatoes, mozzarella and fresh basil with al dente gnocchi pasta and briefly steamed tender-crisp sugar snap peas, tossed with a delicious light and tangy salad dressing.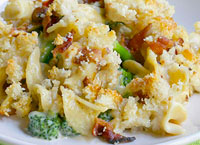 Chicken Broccoli Bake
is creamy and cheesy, and true comfort food filled with all the good stuff! Steamed broccoli florets are combined with fresh lemon juice and placed in a casserole dish. Chicken breast and noodles mixed with a creamy cheddar cheese sauce are then poured over the broccoli. The casserole is then topped with cooked and crumbled bacon and a top crust made of fresh bread crumbs, butter and Parmesan cheese.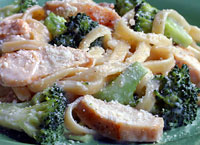 Chicken Broccoli Fettuccine
is a delicious chicken and pasta dish you can whip up on your stovetop in about 20 minutes. This easy chicken and broccoli recipe features thin tender pieces of chicken breast, bite-size broccoli florets and fettuccine noodles tossed with a delicious creamy cheese sauce made with a butter and flour roux, minced garlic, milk and a generous helping of Parmesan cheese.
This
Chicken Fricassee recipe
produces an elegant gourmet meal that is easy to prepare and takes only a little over a half an hour cooking time. With the flavors of Burgundy, light cream and an assortment of herbs and spices, this chicken dish will truly please your pallet. The addition of Burgundy is mild enough that this dish will please all ages.
Chicken Fricassee
can be served over any pasta or any type of rice.
Chicken Linguine with Chili Herb Salsa
can be served warm or chilled, and is a great chicken and pasta dish to serve for lunch or dinner. This recipe features chicken breast chunks and a colorful salsa served over linguine noodles cooked al dente, then topped with freshly grated Parmesan cheese. The salsa is made with tomatoes, onions, garlic, black olives, three fresh herbs and three types of mild chili peppers. Very festive!