Pasta
Pasta dishes are amazingly versatile. Not only is there a huge variety of pasta shapes and flavors (such as whole grain, spinach, tomato, etc.) to use as a base for your favorite dish,
you can decorate your pasta with a variety of meats or fish, cheeses, sauces, vegetables, herbs, and almost anything imaginable.
Below you will find pasta recipes that include dishes made with chicken, ground beef, pork and shrimp as well as cheese, pepper sauces, pesto sauce, creamy fettuccine sauce, curry sauce and delicious pasta salads.
If you are creative, you can take your love for pasta to a new level by creating your own homemade pasta with a pasta machine (also called pasta maker). Many electric mixers now offer a pasta-making attachment, which makes it even easier to make your own pasta. Whether you enjoy meat or are a vegetarian or vegan, pasta dishes will always offer an endless amount of delicious choices.
Pasta Recipes ▼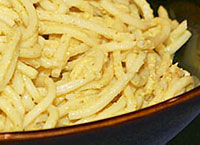 Coconut Curry Noodles
have a mild yet distinctive and very pleasing flavor. These tender noodles serve as a side dish for most any meat, chicken or fish, and will accompany any Asian or Stir-Fry dish beautifully. These noodles can also be used as a filler along with other fresh ingredients for
Lettuce Wraps
. Photo shows this dish made with Chow Mein noodles, but spaghetti, fettuccine, or any other long noodles may be used.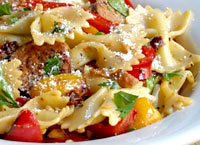 Farfalle Pasta with Sausage and Sweet Peppers
is light and full of flavor, featuring farfalle pasta (also often called bow tie pasta), slices of Italian sausage, red (and yellow, if desired) sweet bell peppers, snipped fresh parsley, sun-dried tomatoes (optional, but highly recommended!) and minced garlic combined with your choice of chicken or vegetable broth. This colorful pasta dish is then topped with grated Parmesan cheese,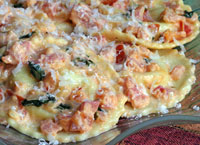 Cheese filled pasta is one of those amazing comfort foods that tastes fabulous with almost any pasta sauce, whether it be marinara,
pesto
or this colorful
Four Cheese Ravioli with Tomato Basil Sauce recipe
. This ravioli recipe features cheese filled ravioli topped with an easy sauce made with chopped tomatoes, chopped fresh basil leaves, diced onion and sliced garlic simmered with heavy cream and a small amount of butter.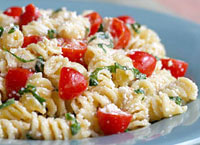 Fusilli with Ricotta and Cherry Tomatoes
is a light and fresh pasta dish made with fusilli pasta (also sometimes called "bow tie pasta"), fresh basil, cherry tomatoes, garlic and ricotta and Parmesan cheeses. This pasta recipe can be served warm (just after the fusilli has been cooked) as a main or side dish, or cold after being chilled in the fridge as a pasta salad.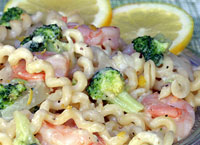 Fusilli with Shrimp and Broccoli
is a colorful and mildly flavored pasta dish with a hint of lemon, featuring fusilli pasta (long and thick corkscrew shaped noodles) with shrimp, broccoli florets, thinly sliced tenderized onions, minced garlic and lemon zest in a mildly seasoned thick and creamy (yet light) sauce that is created on your stovetop in just minutes. This dish is tasty as it is colorful, and is perfect served for lunch or dinner.
This delicious
gnocchi recipe
features gnocchi (pronounced "noki"), sweet corn and fresh arugula tossed with a wonderful and easy cream sauce made with cream cheese and half-and-half that takes just minutes to prepare. This pasta dish can be served as a side to a main course or as the main course itself. Each serving is sprinkled with salt, pepper and red pepper flakes, giving this dish the perfect final flavor boost!