Farfalle Pasta with Sausage and Sweet Peppers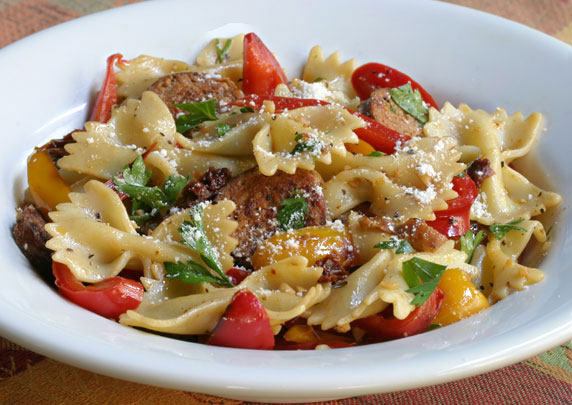 Cook Time:
12-30 minutes (uncooked deli-style sausage adds 10-15 minutes of cooking)
Tips:
Can be served hot or cold as a pasta salad.
Farfalle Pasta with Sausage and Sweet Peppers is light and full of flavor, featuring farfalle pasta (also often called bow tie pasta because of the bow tie shapes), slices of Italian sausage, red (and yellow, if desired) sweet bell peppers, snipped fresh parsley, sun-dried tomatoes (optional, but highly recommended!) and minced garlic. These ingredients are combined with your choice of chicken or vegetable broth, and cooked for about 5 minutes to allow all the flavors to mingle.
Top this colorful pasta dish with some grated Parmesan cheese, and you've got a dish that will wow your guests. The beauty of this dish is that it can be served as a hot meal or cold from the fridge as a pasta salad.
This recipe calls for spicy Italian sausage (pre-cooked or uncooked deli-style) because the spicy version adds the perfect flavor and "bite" to this dish that counters the sweetness of the bell peppers. The photo above shows this dish made with the uncooked spicy Italian deli-style sausage, which was cooked on the outdoor grill, though you can cook the deli-style sausage on an indoor grill, under the broiler, or in a skillet. If you use pre-cooked sausage, you can skip the first cooking step and simply slice the sausage and place it in the skillet. Browning the sliced sausage pieces in a skillet allows the flavors and juices of the sausage to comingle with the broth and other ingredients. If you are not fond of spicy dishes, mild sausage can be used, though this might compromise some of the vibrant flavor of this dish. There is quite a variety of Italian sausages available with varying degrees of spiciness. So, if you choose a spice level you like, you can't go wrong!
Ingredients
8 oz. farfalle (bow tie) pasta
1 tablespoon olive oil
1/2 lb. (8 oz.) spicy Italian sausage links (uncooked deli-style or precooked)
2 medium red (or 1 red and 1 yellow) sweet bell peppers, cut into 1/2 x 1 to 2-inch pieces
1/2 to 1 cup vegetable or chicken broth (as needed)
1/4 teaspoon coarsely ground black pepper
2 tablespoons sun-dried tomatoes (optional)
2 cloves garlic, minced
1/4 cup snipped fresh Italian parsley
Parmesan cheese for garnishing
Directions
If using uncooked deli-style sausage, cook by grilling on a barbecue grill, indoor grill, in a skillet or under a broiler until thoroughly cooked. If using cooked sausage, you can skip this step.

Cook pasta according to package directions, then drain. While pasta is cooking, remove stems and seeds from bell peppers and cut into 1-2-inch x 1/2-inch slices. Cut cooked sausage into 1/2-inch-thick pieces. In a large skillet, heat olive oil, then add sausage pieces and sweet peppers over medium-high heat and cook until sausage is browned and peppers are crisp tender (about 3-5 minutes). One minute before you are finished cooking sausage and peppers, push sausage and peppers aside and add garlic. Cook for 1 minute, then stir garlic into sausage and peppers to combine. Add 1/2 cup of broth and black pepper and bring to a boil. Reduce heat and simmer, uncovered, for 5 minutes. Remove from heat.

Add cooked pasta, parsley and sun-dried tomatoes to skillet with sausage and pepper mixture. Add additional broth only if needed to coat all ingredients. Stir to combine and serve. Garnish with Parmesan cheese if desired.
Other recipes you might like: