Pasta
Pasta dishes are amazingly versatile. Not only is there a huge variety of pasta shapes and flavors (such as whole grain, spinach, tomato, etc.) to use as a base for your favorite dish,
you can decorate your pasta with a variety of meats or fish, cheeses, sauces, vegetables, herbs, and almost anything imaginable.
Below you will find pasta recipes that include dishes made with chicken, ground beef, pork and shrimp as well as cheese, pepper sauces, pesto sauce, creamy fettuccine sauce, curry sauce and delicious pasta salads.
If you are creative, you can take your love for pasta to a new level by creating your own homemade pasta with a pasta machine (also called pasta maker). Many electric mixers now offer a pasta-making attachment, which makes it even easier to make your own pasta. Whether you enjoy meat or are a vegetarian or vegan, pasta dishes will always offer an endless amount of delicious choices.
Pasta Recipes ▼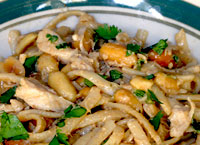 Chicken Linguine with Spicy Peanut Sauce
is a quick and easy pasta recipe that caters to all ages. Linguine noodles are cooked, then combined with chunks of chicken breast, salted peanuts and sliced green onions. These combined ingredients are then tossed with a delicious peanut sauce made with peanut butter and a variety of Asian ingredients that creates the perfect blend of spice, tanginess and robust flavor!
Chicken Noodle Salad with Spicy Peanut Dressing
is a colorful salad with distinctively vibrant flavor! Chunks of chicken breast, linguine pasta and thinly-sliced orange sweet bell peppers are tossed with a peanut dressing that has just the right amount of spice and tanginess. The dressing is made with peanut butter, rice vinegar, soy sauce, sesame oil, fresh ginger root, cayenne pepper and a little sugar, and brings this salad to life!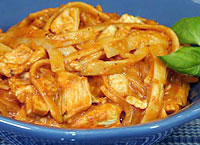 Chicken Paprika Fettuccine
is a color-rich and delicious pasta dish featuring the flavors of fresh basil leaves and paprika. This easy pasta recipe combines thin slices of chicken breast, fettuccine noodles and thinly sliced sautéed onions (optional) in a delightful sauce made with a seasoned flour base of paprika, fresh basil and chicken broth and a generous helping of sour cream, giving it a wonderful creamy texture.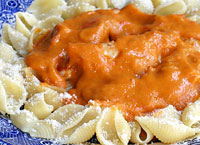 Chicken Peperonata
is a delightful chicken recipe consisting of pasta, chicken breast and a delicious Peperonata Sauce. The Peperonata Sauce is made with a combination of sautéed red and green sweet bell peppers, skinned tomatoes, onions, garlic and fresh basil, and is pureed into a creamy consistency that beautifully drapes over the chicken and pasta, giving it vibrant color.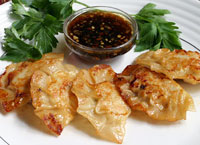 Chicken Pot Stickers
(also referred to as
Chinese Dumplings, Gyoza or Jiaozi
) feature wonton wrappers (or Gyoza wrappers) filled with a pureed mixture of chicken breast, garlic, green onions, water chestnuts, fresh ginger root and Napa cabbage and an egg to help hold the mixture together. This recipe also includes a delicious tangy Asian dipping sauce made with soy sauce, rice vinegar and an assortment of spices.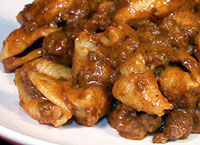 Chili Mac
is a great quick and easy pasta recipe you can throw together when you are too tired to cook or simply don't have the time. Chili Mac is conveniently made with prepackaged macaroni and cheese and canned chili (with no beans) and a few added spices to give it that homemade flavor. This easy dish resembles one of those boxed pasta skillet dishes, though without the preservatives and much more flavor!