Pasta
Pasta dishes are amazingly versatile. Not only is there a huge variety of pasta shapes and flavors (such as whole grain, spinach, tomato, etc.) to use as a base for your favorite dish,
you can decorate your pasta with a variety of meats or fish, cheeses, sauces, vegetables, herbs, and almost anything imaginable.
Below you will find pasta recipes that include dishes made with chicken, ground beef, pork and shrimp as well as cheese, pepper sauces, pesto sauce, creamy fettuccine sauce, curry sauce and delicious pasta salads.
If you are creative, you can take your love for pasta to a new level by creating your own homemade pasta with a pasta machine (also called pasta maker). Many electric mixers now offer a pasta-making attachment, which makes it even easier to make your own pasta. Whether you enjoy meat or are a vegetarian or vegan, pasta dishes will always offer an endless amount of delicious choices.
Pasta Recipes ▼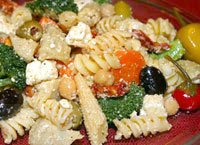 This
Pasta Salad recipe
is refreshing, delicious and colorful, and features a wonderful combination of ingredients: Rotini pasta with broccoli, marinated artichoke hearts, baby corn, garbanzo beans, carrots, feta cheese, sundried tomatoes and green and kalmata olives. These ingredients are tossed with an easy-to-make light and tangy homemade Italian dressing and a generous helping of Parmesan cheese.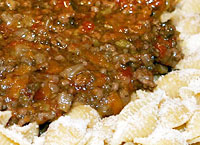 Pasta with Beef and Red Wine Sauce
is a unique and elegant French pasta dish with fabulous and distinct flavor. Tender ground beef is cooked with finely diced vegetables in a beef-flavored broth with a hint of red wine, then served over a bed of pasta shells and sprinkled with freshly grated Parmesan cheese. This dish can be made in advance and refrigerated or frozen, then reheated. Truly delicious!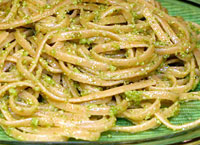 Pasta with Pesto
is one of those dishes that incorporates amazing flavor, healthiness, and simplicity all in one, and can be served as a side dish or main course. It starts with your choice of pasta noodles, which can vary in both shape and flavor. Photo shows this dish made with whole grain linguine, but you can use other long noodles such as fettuccini and spaghetti. The pesto is made with fresh basil leaves and is whipped up in seconds!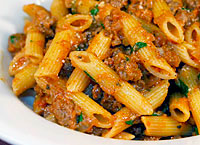 Penne Bolognese
is a delightful pasta dish made with lean ground beef and diced vegetables, herbs and Parmesan cheese in a tomato-based sauce . It is easy to prepare and only requires a little dicing of onions, carrots and celery. The rest is simply a matter of browning the ground beef and allowing it to simmer in the wonderful flavors of the sauce. The sauce is tossed with Penne pasta, then topped with grated Parmesan cheese.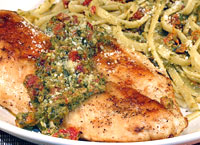 Pesto Chicken Linguine with Sun-Dried Tomatoes
takes about 15 minutes cooking time with minimal preparation, and produces an elegant, healthy and satisfying dish that caters to all ages. Photo shows this chicken pesto recipe with the chicken breast and linguine served side-by-side, though the chicken can also be cut it into cubes or thin bite-size slices and tossed with the linguine, turning this chicken dish into a fabulous pasta dish!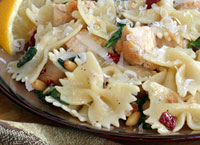 It's nice to know there are healthy pasta recipes that aren't over-loaded with calories! This light and healthy pasta dish is freshly flavorful and can be served warm or chilled.
Pesto Chicken Pasta
features bow tie pasta combined with an easy pesto sauce featuring fresh basil leaves, diced sun-dried tomatoes, minced garlic and pine nuts. Drizzle with some lemon juice and top with freshly grated Parmesan cheese.for the perfect final touch!