Tuna Noodle Casserole with Crumb Topping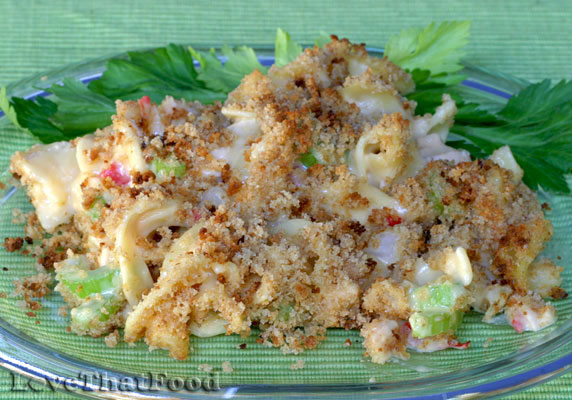 Tips:
Any large, short pasta shapes can be used. Celery and onions are not sautéed before baking, giving this casserole a nice slight crunch. If you prefer more tender vegetables, you can sauté the onions and celery in 1 tablespoon of butter for 2-3 minutes or until tender before adding to the other casserole ingredients.
Tuna Noodle Casserole is a quick and easy
casserole recipe featuring pasta, canned tuna, sliced celery, diced onion, pimiento, cream of celery soup, milk and shredded cheddar cheese. This is a great casserole to whip up when you're short of time and energy, and is a great way to use up some of those often forgotten pantry items in your kitchen.
The photo above shows this Tuna Noodle Casserole recipe made with flat egg noodles, though other wide and short noodles can be used, including farfalle pasta (also called bow-tie pasta), rotini or fusilli (spiral-shaped pasta) and large shell pasta. Preparation for this casserole dish is very easy, and the only cooking needed is when you pop it in the oven for 20 minutes. This is also a kid-friendly dish!
Ingredients
Casserole

6 oz. (3 cups) noodles, cooked
6 1/2 - 7 oz. can tuna, drained
1/2 cup mayonnaise
1 cup celery, thinly sliced (about 2 long stalks)
1/3 cup onion, diced
1/4 cup pimiento, diced
1/2 teaspoon salt
1 can cream of celery soup
1/2 cup milk
4 oz. cheddar cheese, grated (about 1 1/3 cups grated)



Bread Crumb Topping

1 cup plain bread crumbs
1/4 cup melted butter
Directions
Casserole
Preheat oven to 400°F.
In a large mixing bowl, combine cooked noodles, tuna, mayonnaise, celery, onion, pimiento and salt, breaking up tuna with a fork into bite-size chunks. In a small sauce pan, add soup and milk and heat over medium heat until warm, stirring frequently. Add cheese, and stir until constantly until melted. Add soup mixture to other ingredients in mixing bowl and toss to thoroughly combine. Pour into an 8x12-inch casserole dish. Set aside.
Bread Crumb Topping
Combine bread crumbs and melted butter and mix with a fork until thoroughly combined. Sprinkle evenly over entire casserole. Bake casserole (uncovered) for 25-30 minutes, or until hot and bubbly and bread crumbs have turned golden brown.
Other recipes you might like: