Casseroles
Much like
soups and stews
, casserole recipes can be very creative, not only in terms of the many different ingredients that can be combined together, but the ways in which they can be prepared. Most casseroles are easy to make
and can feed quite a few. No matter what type of casserole recipe you choose to make, the end result will almost always produce be a hot and delicious meal that will satisfy big hunger. Sometimes casseroles contain the basic food groups one would normally serve at dinner, such as a meat, vegetable and carbohydrate, and any type of bread is all that's necessary to serve on the side. Casserole recipes can be made with a variety of meats, vegetables, cheeses, sauces, and topped with cheese, crunchy or other toppings. Some of the most popular casserole recipes are breakfast casseroles, chicken casseroles, bean casseroles, beef casseroles, rice casseroles and vegetable casseroles. This page includes a variety of casseroles made with chicken, beef, pork, tuna, potatoes and other vegetables, and will continue to share new exciting casserole ideas as they are discovered.
Casserole Recipes ▼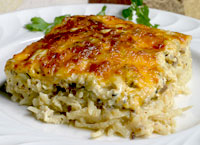 Egg Potato Sausage Breakfast Casserole
is a great breakfast or brunch dish for those mornings you would like to have a delicious, hot meal without all the work. This breakfast casserole is prepared the night before and stored it in the refrigerator overnight. The following morning, all you have to do is pop it into the oven about 40 minutes before serving time. This overnight breakfast casserole is perfect for Christmas and other holidays!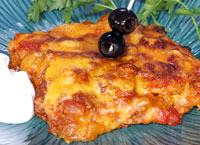 This easy Mexican casserole recipe is perfect for those wanting a dinner that tastes delicious yet takes very little time to prepare.
Enchilada Casserole
features layers of a simmered ground beef sauce, corn tortillas and plenty of cheddar cheese that bake to a bubbly and golden brown on top. The sauce consists of lean ground beef, onions, diced green chiles, canned tomatoes, tomato sauce and taco seasoning.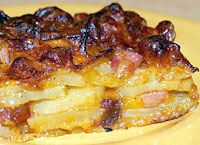 Ham and Scalloped Potatoes
is an easy casserole recipe that feeds plenty, has fabulous flavor, and is enjoyed by all ages. This scalloped potato recipe features thin slices of potato, bite-size chunks of ham, sliced onions and cheddar cheese. All of these delicious ingredients bake together with a simple milk and flour sauce for about 1 hour, resulting in a wonderful bubbly golden casserole with a beautiful caramelized and crunchy top.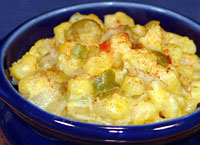 Hominy Casserole
is a quick and easy skillet recipe that can be put together in just 10 minutes! This creamy and cheesy vegetable casserole is made with hominy (either yellow or white hominy), cheddar cheese, onions, diced green bell peppers and sliced ripe or green olives (photo shows this recipe made with green olives). The olives are optional, but highly recommended, because they add a wonderful complimentary flavor.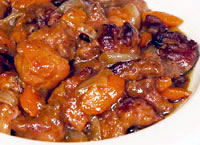 The flavors of apple cider and rosemary combine in this
Pork with Apple Cider recipe
to create a fabulous broth that tenderizes the pork to a mouth-watering degree when baked together in the oven. The carrots and onions (or leeks) are also tenderized, and contribute to the overall flavor of this delightful casserole dish. Photo shows this dish made with pork shoulder, though any tender cut of pork can be used.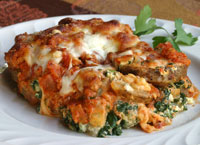 This healthy lasagna recipe features layers of sliced potatoes, ricotta and mozzarella cheese, and a seasoned sauce made with lean ground turkey, onions and your favorite jar of pasta sauce. The lasagna is topped with Parmesan and baked until hot and bubbly.
Potato and Spinach Lasagna
feeds plenty, and will leave your guests satisfied long after the last bite! May also be made with ground chicken or lean ground beef.