Egg Potato Sausage Breakfast Casserole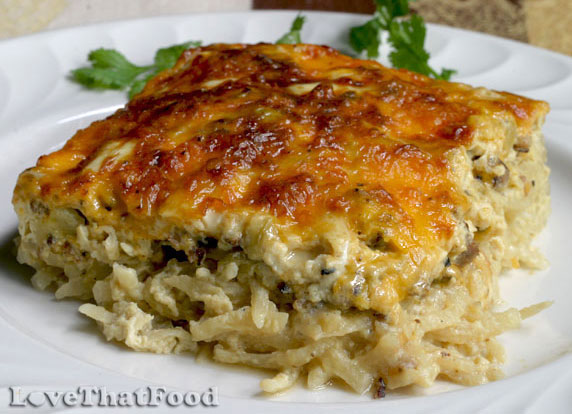 Tips:
May be made a day in advance and refrigerated overnight until ready to bake the following morning. Mild, sharp or extra sharp cheddar cheese may be used.
This is a great dish for those mornings you would like to have a delicious, hot meal without all the work and dishes to clean, or if you're entertaining guests and would rather spend your time visiting than cooking. Egg Potato and Sausage Breakfast Casserole is an especially easy breakfast casserole recipe that is conveniently assembled the night before it is baked, making it perfect for Christmas and other holidays where family and friends are likely to gather in the morning for breakfast or brunch.
This overnight breakfast casserole recipe is made with eggs, breakfast sausage, shredded potatoes
(frozen hashbrowns may be used instead, if desired) shredded cheddar cheese and diced green chiles (optional). (Tips: If preferred, you can make this breakfast casserole with bread cubes instead of hasbrowns, simply by cutting a couple large pieces of bread (preferably sourdough) into cubes and mixing the bread cubes in with all the other ingredients, then pouring into the casserole dish. Crumbled bacon or chopped ham may be used instead of breakfast sausge, if desired.)
All these wonderful ingredients provide an entire breakfast in one dish, though some biscuits (such as
Flaky Buttermilk Biscuits
or
Whole Wheat Biscuits
),
Bran Muffins
or bagels and/or a side of fresh fruit accompany this breakfast egg casserole very nicely). The beauty of this sausage, egg and potato casserole is that you prepare it the night before and enjoy your breakfast the following morning without the fuss of cooking and cleaning! Once the ingredients are combined, simply transfer them to a casserole dish, then cover it with plastic wrap and store it in the refrigerator overnight. The following morning, all you have to do is pop it in the oven for 40-50 minutes before serving time. This will allow you to relax and enjoy your family and/or guests and a cup of coffee while it cooks!
Ingredients
1 dozen eggs
1 lb. bulk sausage
1 4-oz. can diced green chilies
2 pieces sourdough bread, cubed
1 cup shredded cheddar cheese
1 cup shredded Monterey jack cheese
1 onion, chopped into bite-size pieces
Directions
Brown sausage in skillet, breaking up into crumbs and bite-size pieces. In a large mixing bowl, lightly beat eggs. Add sausage and all other ingredients to eggs and mix until combined. Pour egg mixture to a 9x13-inch casserole dish and cover with plastic wrap. Place in refrigerator overnight.

When ready to bake, preheat oven to 350°F. Remove plastic wrap from casserole dish and bake for one hour. Serve hot.
Other recipes you might like: