Apple Sausage Quiche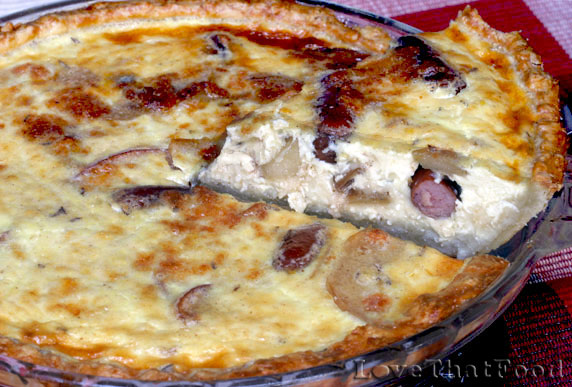 Tips:
Red or golden delicious, gala or fuji apples may be used. Peeled and thinly-sliced potatoes can be used in place of apple slices, if desired.
Suggestion:
Delicious for breakfast, brunch, lunch or dinner. Can be served hot, chilled from the fridge or reheated in the microwave.
Combining sliced apples, little sausages and swiss cheese may seem like an unlikely marriage of ingredients, but Apple Sausage Quiche is proof these flavors marry surprisingly beautifully!
In fact, apple and pork are known to combine well in other dishes, such as
Pork with Apple Cider
and
Pork Normandy
. Pork chops are often served with a side of applesauce as well. To prepare this quiche, sliced apples are briefly simmered with the little sausages(also called cocktail sausages or cocktail weenies), blending the flavors and lightly browning the sausages, while tenderizing the apples and giving them a translucent glow. (Red or golden delicious, gala or fuji apples work beautifully with this recipe due to their texture and mildly sweet flavor.) The homemade quiche pastry is delicious on its own, and is easier than ever to make. If you're not in the mood to experiment with the apples in your quiche, you can substitute thin slices of potatoes as well (any type of potato will do). Apple Sausage Quiche tastes wonderful hot from the oven, cold from the fridge or reheated in the microwave.
Ingredients
Quiche Pastry

1 1/2 cups sifted flour
3/4 teaspoon salt
1/2 cup chilled butter
5 tablespoons cold milk



Quiche

5 eggs
1 tablespoon butter
1 5-oz. package cocktail smoked sausage
2 cups thinly sliced red or golden delicious, gala or fuji apples
1 tablespoon flour
1 3/4 cups half and half
12 teaspoon salt
1/8 teaspoon nutmeg
1/4 teaspoon caraway seed
1/2 tesapoon dry mustard
2 cups shredded Swiss cheese
Directions
Quiche Pastry
Preheat oven to 425° F.
In a medium mixing bowl, whisk together flour and salt. Cut butter into about 8 chunks, then using a pastry blender or 2 knives, cut butter into flour and salt mixture until particles have broken down to the size of peas. Make a well in the center of flour and butter mixture, then add milk to the well. Using a fork, start mixing flour mixture into milk by pulling flour from around sides of bowl and stirring into milk. Continue this process until a crumbly dough forms.
Shape dough mixture into a ball, then place on a lightly floured surface. Roll dough out to an 11 1/2-inch circle, occasionally gently lifting dough and sprinkling additional flour on dough and work surface as needed to prevent sticking. Carefully transfer rolled out dough to a 9-inch pie pan and gently manipulate it to fit evenly, trying not to stretch dough. Manipulte edges around top to an even thickness all around, then create a decorative pattern with your fingers or tines of a fork if desired.
Pierce dough with a fork 5 times on bottom to prevent air bubbles from forming during baking. Separate 1 egg, reserving egg yolk for using with quiche ingredients later. Lightly beat egg white, then using a soft pastry brush, brush egg white over bottom, sides and top edge of pastry shell. Place on center rack in oven and bake for 15 minutes. Remove quiche pastry and reduce oven temperature to 375° F.
Quiche
In a large skillet, melt butter, then add sausages and saute for 1 minute, stirring frequently. Add apple slices and stir to combine. Cover and simmer over low heat for 10 minutes or until apples appear almost translucent. Remove from heat.
In a medium mixing bowl, beat remaining whole eggs with the remaining egg yolk. Add flour, half and half, salt, nutmeg, caraway and dry mustard and whisk or stir until well-blended. Layer half the cheese in the pie shell, then top with apple and sausage mixture, spreading around to evenly arrange. Mix remaining cheese into egg mixture, then pour mixture into pastry shell. (Important note: Pie pans can vary in size. Be careful not to over-fill pastry! If you cannot fit all of the quiche mixture into pastry, you can use the leftover quiche mixture to make an individual quiche with or without a quiche pastry. To make a smaller quiche pastry, simiply reduce the quiche pastry ingredients by one-half.)
Bake for about 30 minutes or until quiche is set in center. Browning on top may vary. Remove from oven and allow to cool to lukewarm before cutting into servings (about 5-10 minutes).
Other recipes you might like: