Pork with Apple Cider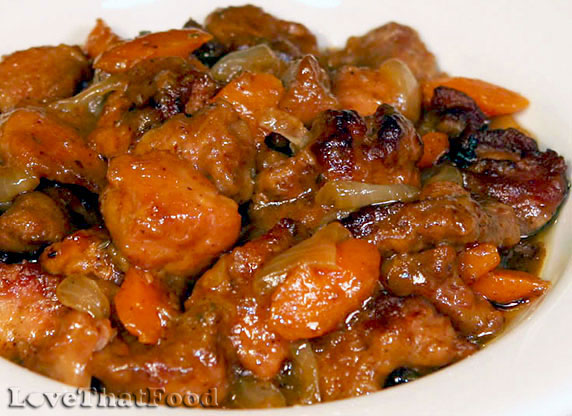 Cook Time:
2 hours, 10 minutes
Tips:
3 leeks (chopped) can be substituted for the onion, if desired.
Suggestion:
May also be served over rice or pasta. If serving without rice or pasta, delicious accompanied by mashed potatoes (see
vegetables
) or a side of
bread
and
salad
.
Here's an amazingly easy pork casserole recipe that is incredibly delicious! The flavors of apple cider and rosemary combine to create a fabulous broth that tenderizes the pork to a mouth-watering degree when baked together in the oven. The carrots and onions (or leeks if you prefer
to use them) are also tenderized, and contribute to the overall flavor of this delightful casserole dish.
This pork recipe is truly easy. Simply coat pork cubes with flour, fry in the skillet until browned, then baked them in a casserole dish with the carrots, onions and cider for 2 hours. That's it! Only a few ingredients, minimal slicing and chopping, and once in the oven, no stirring!
The photo above shows this recipe made with pork shoulder (also called "pork butt"), but you can use any other favored cut of pork, such as pork tenderloin. While baking, the cider partially evaporates and the broth thickens, giving this pork dish a juicy but not too runny consistency which makes this casserole dish delicious either served by itself or over rice or pasta. If serving by itself, see "Suggestion" above for side dishes that will nicely compliment this dish
Ingredients
3 lbs. cubed pork (tender cuts, such as pork shoulder (butt) or pork loin)
3/4 cup all-purpose flour
1/2 cup cooking oil
3 cups apple cider
6 small carrots, sliced diagonally into 1/4-inch thick pieces
1 medium-sized onion, chopped (or 3 leeks, chopped)
3/4 teaspoon rosemary (fresh is best, though dried is fine)
2 teaspoons salt
1 teaspoon ground black pepper
Directions
Preheat oven to 325° F.

Remove any unwanted fat from pork. Coat pork cubes with flour and set aside near cooking area. Heat oil in a large skillet, then add pork and cook until browned, stirring occasionally to brown all sides. Remove pork with a slotted spoon and place in a 3-quart casserole dish. Add carrots and onion to pork. Sprinkle evenly with rosemary, salt and pepper, then stir all to combine.

Drain excess oil from skillet (reserving browned particles in skillet), then pour cider into skillet. Heat cider just until hot, stirring to remove browned particles from bottom and sides of skillet. Pour hot cider into casserole dish. Cover with aluminum foil or casserole cover and bake for 2 hours or until pork seems tender when poked with a fork. Serve alone or over rice or pasta.
Other recipes you might like: