Applesauce Bread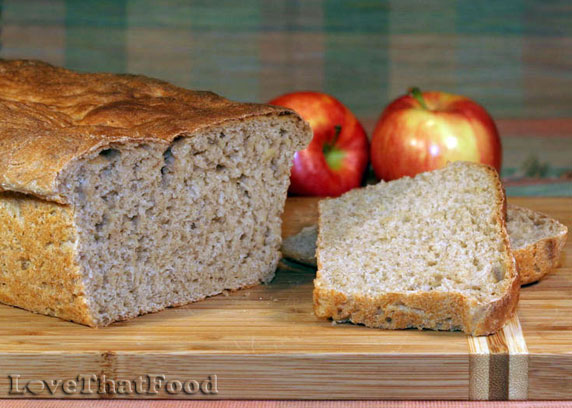 Tips:
May be made using a bread machine, electric mixer or by hand.
Suggestion:
Best toasted and spread with butter!
Applesauce Bread is truly delicious, with fabulous apple flavor and natural sweetness provided by applesauce, apple juice and grated apples. When a slice of this apple bread is toasted to a golden brown, it has a texture similar to toasted English muffins, with tons of crispy nooks and crannies
that allow the butter to ooze down inside. This wholesome apple bread recipe is made with a combination of white and whole wheat flour, along with some cinnamon and nutmeg, giving it the perfect flavor accent.
This healthy bread recipe can be made using an electric mixer with a dough hook or with a bread machine (or by hand, though this will take quite a bit longer). Depending on your preference, you can opt to bake this bread in the oven using a traditional bread pan, or in your bread machine. (Traditional bread pans usually produce a larger top crust, which many consider one of the best parts of the bread!) Even if you choose to knead the dough in your bread machine, you can still bake it in your oven using a bread pan. This bread recipe is good any time of year, and has just the right flavor and spices for Thanksgiving, Christmas and all holidays.
Ingredients
1 package yeast
2 1/4 cups bread or all-purpose flour
3/4 cup wheat flour
1/2 teaspoon salt
4 tablespoons white sugar
1/2 teaspoon cinnamon
pinch nutmeg
2/3 cup warm applesauce
1 tablespoon softened butter
1/2 cup warm apple juice
1/2 cup grated fresh apple
Directions
Bread Machine Method
Put all ingredients in the order listed into the pan and bake according to your bread machine instructions (if you have a "white bread" setting, select that setting). (Note: If you prefer to bake in the oven, use "bread dough" setting on bread machine (for kneading and rising only) and transfer the dough to a 9x5-inch bread pan after it has risen once in the bread machine. Allow to rise again in the bread pan before baking (bread will rise above bread pan.) Bake for 30-40 minutes or until top is golden brown and bread feels fairly firm when gently pressed down in center.)
Electric Mixer Method
Preheat oven to 350° F.
Place warm water and yeast into electric mixer bowl and whisk to dissolve yeast into water. In a medium mixing bowl, whisk together flour, wheat flour, salt, sugar, cinnamon and nutmeg. Set aside.
Warm applesauce and apple juice in microwave (or over stove if no microwave is available) just until lukewarm (do not overheat - if you accidentally overheat, allow to cool to lukewarm temperature). Add applesauce, apple juice, grated apples and butter to water and yeast mixture along with grated apple and mix on low until combined (if butter doesn't blend completely, that's okay - it will blend after the flour is added). Add flour mixture to applesauce mixture and mix just until thoroughly combined.
Pour bread dough into a large glass bowl greased with oil and allow to rise until double in size. (Dough will be sticky - this is normal.) Transfer dough to a buttered 9x5-inch bread pan and bake for 30-40 minutes or until top is golden brown and bread feels fairly firm when gently pressed down in center.
Allow bread to cool in bread pan for 2-3 minutes, then gently remove from bread pan and transfer to a cooling rack. Allow to cool for about 5 minutes before slicing. Delicious toasted with butter!
Other recipes you might like: