Lemon Bread with Lemon Glaze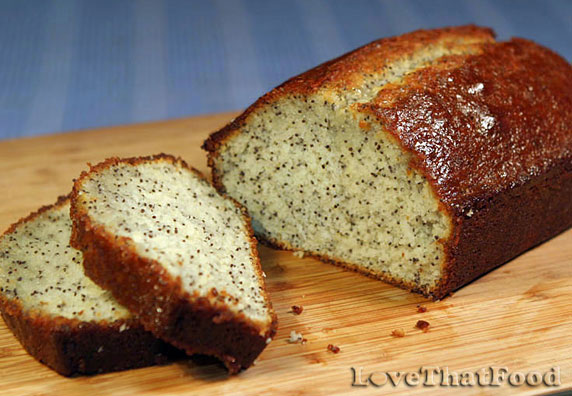 Yield:
1 loaf or about 10 servings
Tips:
Chopped walnuts can be used in place of the poppy seeds, if desired.
Suggestion:
Delicious served with breakfast or brunch or as a mildly sweet dessert with coffee or tea.
Lemon Bread with Lemon Glaze is a light and fluffy quick bread recipe flavored with lemon zest and poppy seeds, then drizzled with a delicious lemon glaze over the top while the bread is still warm
from the oven. This bread can be served with breakfast and brunch or as a mildly-sweet dessert, perhaps with a cup of coffee or tea.
If you've ever tasted a lemon poppy seed muffin, then you know how beautifully the flavors of poppy seeds and lemon blend together. This lemon bread recipe can be made with chopped walnuts rather than the poppy seeds if preferred, though the poppy seeds are delightful!
The lemon glaze is a simple combination of confectioners' sugar and freshly squeezed lemon juice, and with a few holes poked into the bread with a toothpick, the glaze seeps inside, giving the bread a little extra lemon boost. This lemon bread is delicious warm out of the oven, cooled, or toasted.
Ingredients
Bread

1 1/2 cups all-purpose flour
1/2 teaspoon salt
1 teaspoon baking powder
6 tablespoons butter, softened
1 cup sugar
2 eggs
1/2 cup milk



Glaze

grated peel and juice of 1 lemon
1/4 cup poppy seeds (or chopped walnuts)
1/2 cup confectioners' sugar
Directions
Bread
Preheat oven to 350° F. Grease a 9 x 5-inch loaf pan using cooking spray or butter.
In a medium mixing bowl, whisk together flour, salt and baking powder. Set aside.
In an electric mixer bowl (Note: You can also simply mix by hand), add butter, sugar and eggs and beat until light and fluffy. Add half of flour mixture and briefly mix at low speed until blended. Add milk then briefly mix again at low speed until blended. Add remaining with flour mixture and mix until and blended and smooth. Add grated lemon zest and poppy seeds and mix on low speed until thoroughly combined.
Pour the batter into the greased loaf pan. Bake for 50-60 minutes, or until a toothpick inserted into the center of bread comes out clean. Let the bread cool in the pan for 5 minutes. While bread slightly cools, prepare Lemon Glaze (recipe follows).
Remove the bread from the pan and place on a work surface. If desired, poke holes in the top of bread with a toothpick to allow glaze to seep into bread. Drizzle Lemon Glaze over top and sides of bread.
Glaze
In a small mixing bowl, whisk together lemon juice and confections' sugar until all lumps are gone.
Other recipes you might like: