Honey Cornbread Muffins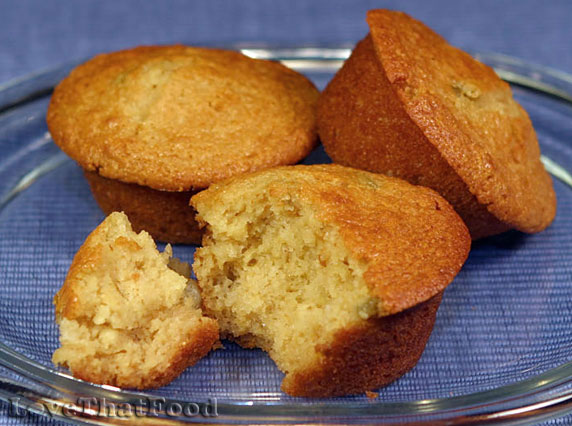 Tips:
Green chiles are optional. If preferred, whole corn kernels can be pureed into a smooth texture before adding to batter.
Suggestion:
Delicious served as a bread side dish with main courses, soups, stews & chili, for breakfast or as a snack anytime.
This Honey Cornbread Muffin recipe has fabulous flavor and a moistness that can't be beat! These irresistible cornbread muffins are made with heavy cream,
which gives them amazing moisture and smoothness. Real kernels of corn and diced mild green chiles are also added, giving them great added texture and flavor. If you prefer to not have whole kernels of corn in your muffins, you can simply puree the corn in a small food processor or blender (photo above shows these muffins made with pureed corn kernels). (Note: Creamed corn is not recommended as a substitute for pureed corn kernels, because it has additional ingredients such as flour, which will affect the overall flavor and texture of these muffins.) The mild diced green chiles (often found in Mexican cornbread recipes) add a nice "bite" to these muffins, but are not at all too powerful in flavor (though you can still opt to leave them out if desired). These sweet cornbread muffins are so moist and delicious (especially with butter) that it is easy to practically inhale them
Ingredients
2/3 cup heavy cream
2/3 cup chicken broth
1 cup corn kernels
1/4 cup butter, melted
1/3 cup honey
6 oz. canned diced green chiles
1 egg
1 tablespoon vanilla extract
1 cup all-purpose flour
3/4 cup cornmeal
1/3 cup sugar
1 teaspoon baking powder
1 teaspoon baking soda
dash of salt
Directions
Preheat oven to 350° F.

In a medium mixing bowl, combine cream, chicken broth, corn kernels, butter, honey, chiles, egg and vanilla. Stir with a fork until well-blended.

In a separate mixing bowl, whisk together flour, cornmeal, sugar, baking powder, baking soda and salt.

While continually stirring, gradually add the wet ingredients to the dry ingredients until mixture becomes smooth and moist. (Be careful not to over-mix.) Spoon the batter into 12 greased or paper-lined muffin cups.

Bake for 22-30 minutes, or until a toothpick inserted into center of muffin comes out clean.


Other recipes you might like: