Zucchini Bread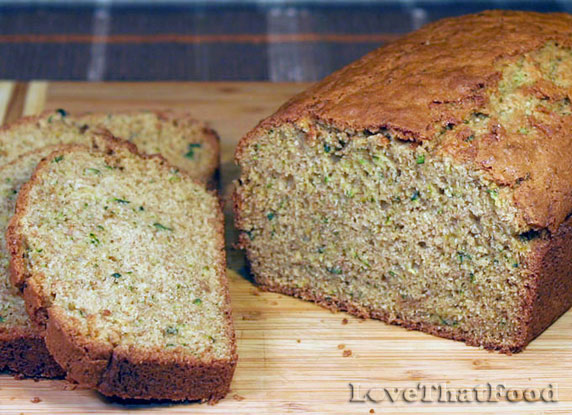 Suggestion:
Wonderful toasted and buttered!
Zucchini Bread will surprise you! The unique flavors in this delicious bread remind me of the holidays - particularly Thanksgiving and Christmas (though you definitely do not need a holiday to whip up a loaf!). Though there is a healthy amount of zucchini in this quick bread recipe, zucchini
is not at all the dominant flavor you will taste - in fact, you might not even recognize any zucchini flavor at all. When you bite into a slice of this healthy bread, you will probably taste hints of zucchini, orange, lemon, cinnamon and ginger, but these flavors blend so beautifully, you will probably not recognize each flavor individually.
Zucchini Bread is also made with lemon zest and orange extract (as well as vanilla extract), giving this bread a wonderful subtle hint of fruity citrus. I created this bread recipe to include whole wheat flour and brown sugar, because I love the way these two ingredients add to the flavor and wholesomeness of quick breads (Banana Bread is also made with whole wheat flour, and has that same wonderful wholesome texture). So, if you're looking for a quick bread for the holidays (though this bread is good any time of year!), Zucchini Bread not only has the flavor of the holidays, the little green specs of zucchini give this bread festive color.
Ingredients
2 eggs, beaten
1/2 cup butter (1 stick), softened
1/2 cup packed brown sugar
1/2 cup granulated sugar
3/4 teaspoon lemon zest
1/4 teaspoon orange extract
1/4 teaspoon vanilla extract
1 1/2 cups grated zucchini
1 cup all-purpose flour
1 1/4 cups plus 2 tablespoons whole wheat flour
3/4 teaspoon salt
1/4 teaspoon cinnamon
1/4 teaspoon ground ginger
3/4 teaspoon baking soda
1 1/2 teaspoons baking powder
1/3 cup chopped nuts (optional)
Directions
Preheat 350° F.

In an electric mixer bowl, add butter and sugars and beat on medium-high speed until well-blended creamy. Add eggs, lemon zest, orange and vanilla extracts and mix on low speed until thoroughly blended and creamy. Add zucchini and mix on low speed only until blended.

In a medium mixing bowl, whisk together flours, salt, cinnamon, ground ginger, baking soda and baking powder. With electric mixer on low speed, gradually add flour to butter, sugar and egg mixture and blend until thoroughly combined.

If using nuts (optional), remove bowl from electric mixer and stir in nuts manually.

Bake for 50 minutes or until sharp knife inserted into center comes out clean. If serving warm, allow to cool slightly before slicing (bread will crumble if too hot). Serve warm from the oven, at room temperature or toasted. Delicious topped with butter.
Other recipes you might like: