Whole Wheat Banana Bread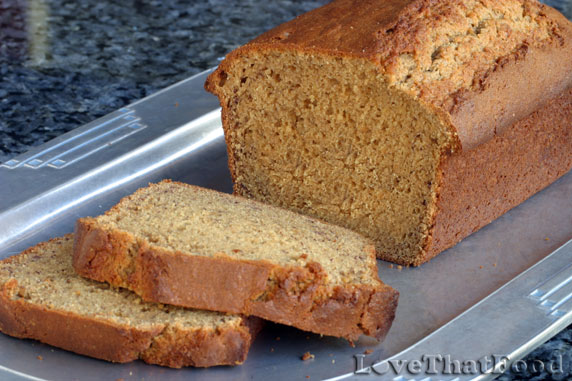 Tips:
Great hot and fresh out of the oven topped with butter, or toasted with butter.
This moist Whole Wheat Banana Bread recipe produces the best banana bread I have ever tried, perhaps because of its healthy and hearty quality as well as simply wonderful flavor. What also might make this banana bread stand apart from the rest is the fact that it is made with only whole wheat flour (no all-purpose flour), which gives this bread that wholesome texture you can sink your teeth into. This banana bread recipe also uses a hefty dose
of sour cream, which gives it added moisture and flavor. This recipe doesn't call for nuts, though if you prefer, you can certainly add 1/2 cup of any of your favorite chopped nuts, such as walnuts, pecans, macadamia, etc. Simply manually stir the chopped nuts into the mixed bread batter just before you pour it into the bread pan.
Though many of us might be accustomed to banana bread made with white flour because of its light and airy texture, once you try a slice of banana bread with whole wheat flour, you may never go back! You can also easily turn this Whole Wheat Banana Bread recipe into whole wheat banana muffins, simply by pouring equal portions of the batter into medium or large muffin cups (up to 2/3 full), and baking for 20-30 minutes, or until a toothpick inserted into the center of a muffin comes out clean (whole wheat banana muffins will not take as long to bake as an entire loaf of banana bread).
Stealing a slice of this banana bread just minutes after it emerges from the oven and watching a generous pat of butter melt over the top as you pop it in your mouth is an incredible taste experience, but you must also try a slice of this Whole Wheat Banana Bread toasted and buttered!
Ingredients
2 cups whole wheat flour
1 teaspoons soda
1/2 cup (1 stick) butter, softened
1 cup sugar
2 eggs
2 medium over-ripe bananas, mashed
1/3 cup milk combined with 1 t. lemon juice or vinegar
2 generous tablespoons sour cream
Directions
Preheat oven to 350° F.

In electric mixer bowl, cream butter with sugar and bananas. Add eggs and mix until blended. In a separate small mixing bowl, whisk together flour and soda. Add flour mixture to butter mixture, alternating with milk and vinegar mixture, ending with dry ingredients. Add sour cream and mix until well-blended. Grease a bread pan and pour mixture into pan. Bake for 55-65 minutes or until toothpick or sharp knife inserted into center comes out clean.
Other recipes you might like: