Whole Wheat Biscuits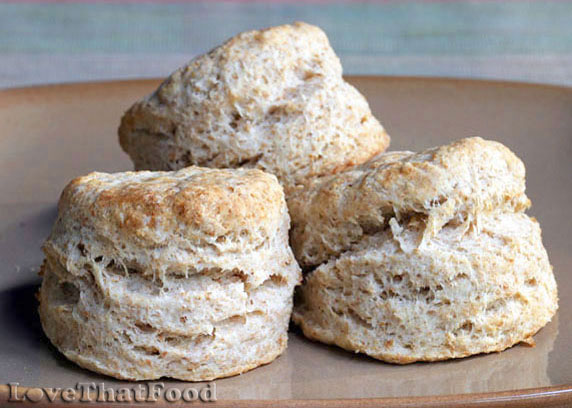 Yield:
15-16 2 1/2-inch biscuits or 8 3-inch biscuits
Tips:
Manipulate dough only just enough to enable you to roll out for cutting, as this will ensure a flaky pull-apart biscuit.
Suggestion:
Delicious with butter and jams, preserves, jellies or apple butter, or topped with country or sausage gravy. (For sausage gravy, simply use this biscuit recipe with the
Biscuits and Sausage Gravy
recipe.)
These Whole Wheat Biscuits are fluffy and delicious, puff up beautifully, and easily pull apart just like Flaky Buttermilk Biscuits. For those who enjoy the flavor
and texture of breads made with whole wheat flour, you can probably imagine how tasty these wholesome biscuits are! While Flaky Buttermilk Biscuits are made with all-purpose flour and buttermilk, this whole wheat biscuit recipe uses a combination of whole wheat and all-purpose flours and plain yogurt (rather than buttermilk). These biscuits can also be made with made with a combination of butter and bacon drippings, which adds flavor and comes in handy if you're planning on serving these biscuits with making a breakfast that includes bacon. These biscuits are fabulous warm out of the oven, topped with butter and preserves, jams, apple butter or jelly. Because of their fluffy yet hearty texture, they also taste amazing with sausage gravy (see Biscuits & Sausage Gravy, and use with the Sausage Gravy instead of the Flaky buttermilk Biscuits).
Ingredients
1 3/4 cups whole wheat flour
1 3/4 cups all-purpose flour
5 teaspoons baking powder (1 tablespoon plus 1 teaspoon)
1 tablespoon sugar
1 1/2 teaspoons salt
2/3 cup butter (may also use 1/3 cup butter and 1/3 cup bacon drippings)
1 1/2 cups plain yogurt
Directions
Preheat oven to 375° F.

In a large mixing bowl, whisk together whole wheat flour, all-purpose flour, baking powder, sugar and salt. Cut butter (and bacon drippings if using) into flour mixture using a pastry blender or two knives until mixture resembles coarse crumbs. Add yogurt and stir with a fork just until blended and formed into a dough (about 2-3 minutes). Transfer dough to a lightly floured work surface and manipulate dough just until there are no loose crumbs (about 30 seconds). (Tip: The key to a flaky biscuit is to only mix the dough as necessary to enable you to roll it out.) Roll out to a 1-inch thickness.

Cut biscuits using a 2 1/2 or 3-inch biscuit cutter and place on a baking sheet about 2 inches apart. (Gather dough remnants as necessary after each batch you cut, and roll out again to a 1-inch thickness until all dough has been used.)

Bake for 20-30 minutes, or until biscuits have puffed up and tops turn have turned light golden brown in color. Transfer to a cooling rack or serve immediately fresh from the oven. Store in air-tight container. To reheat later, heat on high in microwave for 10-20 seconds.
Other recipes you might like: