Biscuits and Sausage Gravy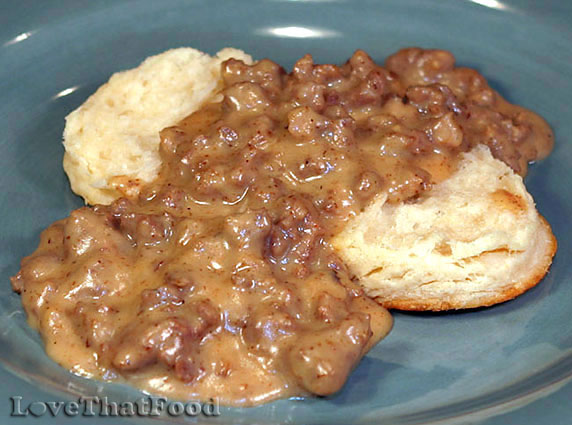 Yield:
About 2 1/2 cups gravy & 16 biscuits or about 8 servings
Tips:
Non-stick skillets are not recommended, because they do not leave behind the bits and pieces of sausage on the bottom of the skillet needed for flavor! If you use a low-fat sausage, see recipe for special instructions.
Suggestion:
Delicious served with a side of fruit such as cantaloupe, honey dew melon or fresh strawberries.
This Biscuits & Sausage Gravy recipe makes a wonderfully hot and delicious dish that is surprisingly easy to make. Also often referred to as biscuits and gravy, country
gravy, or Sawmill Gravy (another term for white gravy), this hot and tasty dish is commonly served for breakfast or brunch, but can be just as delicious served as a lunch or dinner.
Bulk pork breakfast sausage is cooked into crumbled pieces, then combined with a gravy you whip up in the skillet in just minutes. The bits and pieces of sausage that stick to the bottom of the pan blend into the gravy, giving it eye-rolling flavor. This flavorful sausage gravy is then poured over warm homemade Flaky Buttermilk Biscuits that are mouth watering on their own! (Note: you can use ready-to-bake biscuits from the store, but I highly recommend using the homemade Flaky Buttermilk Biscuits recipe, because it is easy and takes only 10 minutes to bake. Breakfast does not have to be the same old thing anymore!
Ingredients
Directions
Prepare
Flaky Buttermilk Biscuits
or
Whole Wheat Biscuits
as directed. While biscuits are baking, prepare Sausage Gravy as follows:
Brown sausage in a large skillet (not non-stick), crumbling while cooking. When sausage has finished cooking, transfer to a bowl and cover with aluminum foil to keep warm. (Note: Leave browned bits and pieces in bottom of skillet!) Remove all but 2 tablespoons of the fat in the skillet. (Note: If you used a low-fat sausage that produced no fat while cooking, simply melt 2 tablespoons butter in skillet and use that instead of fat). Whisk flour into the fat (or butter) and cook over low heat for about 2 minutes, continuously whisking until blended.
Remove pan from heat and whisk in milk a little at a time. Continue whisking until mixture is smooth with no clumps, then return skillet to heat and cook on medium-high, stirring frequently as gravy comes to a gentle boil and thickens (about 2-4 minutes). Scrape up as much of the brown bits as possible on the bottom of the skillet and stir them into the gravy (a metal flat spatula works best to scrape bottom of skillet).
Salt and pepper to taste. Add crumbled sausage to gravy and stir to blend, then remove from heat and serve over Flaky Buttermilk Biscuits.
Other recipes you might like: