Crispy Sausage Pancake Bites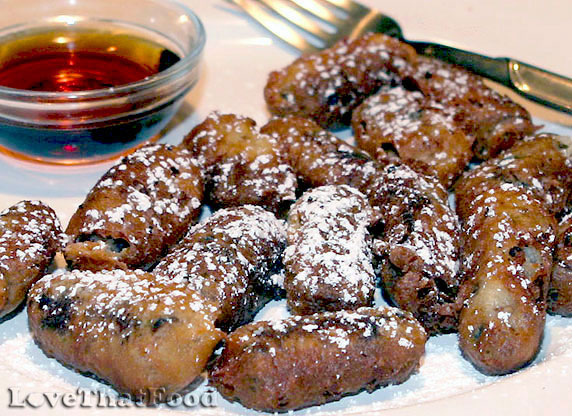 Cook Time:
About 15 minutes
Tips:
If you have any left over batter, you can quickly cook up some pancakes, or save the batter in the refrigerator for pancakes the next morning.
Suggestion:
Delicious served with a side of fresh fruit.
If you like link sausage and pancakes (who doesn't?), and if you enjoy that crispy on the outside and moist and tender on the inside quality
that only fried foods can bring, then you'll enjoy this crispy version of Pigs in a Blanket! Crispy Sausage Pancake Bites features cooked link sausages dipped in pancake batter, then fried until golden brown and crispy. These cute little bite-size pancake and sausage bites are then dusted with a light snow of powdered sugar, giving them added flavor and eye appeal. The beauty of this fun pancake and sausage recipe is that all you need is a fork. Dip these little bites into some maple syrup (or any other syrup you like), and pop the whole thing into your mouth - no knives required with this recipe, which makes it perfect for kids (and kids at heart!). Berries (such as strawberries, blueberries or raspberries), melon (such as cantaloupe or honeydew), bananas or other fresh fruit accompany this dish beautifully.
Ingredients
1 egg
3/4 cup buttermilk
3/4 cup all purpose flour
2 1/2 teaspoons sugar
3/4 teaspoon baking powder
1/4 teaspoon salt
4 oz. (1/2 stick) butter, melted
1 package (about 16 pieces) link sausage
Directions
In a large skillet, fry link sausage until brown and thoroughly cooked. Cut each link in half and set aside.

In a small mixing bowl, whisk together flour, baking powder and salt. Add to a blender the egg, buttermilk and melted butter. Add the flour mixture and blend until smooth. Pour pancake mixture into a bowl and set aside. In a saucepan, pour enough oil to make about 1 inch deep in pan. Turn heat on medium high, and wait for oil to get hot. When you think the oil is hot enough, test it by dropping a small bit of pancake batter in. If it starts to bubble and cook, the oil is ready.

Using two forks, immerse the sausages one at a time in the pancake batter. Lift and gently drop into the hot oil. Note: These little bites will cook quickly, so watch them closely. As soon as one side has cooked (about 15-30 seconds), turn it over and allow the other side to cook (you may have to use a fork to hold it in place if it keeps wanting to roll back over). As soon as the bites turn golden brown, lift with the fork and place on a plate covered with a few paper towels (to absorb the oil). Continue this process until you have cooked all pieces.

Caution: The oil may tend to get hotter as you continue to cook. If it does, continually reduce the heat until you reach a temperature that turns them into a nice golden brown in about 15-30 seconds.

If you have a deep fat fryer that you would rather use for this dish, follow the instructions for your fryer.
Other recipes you might like: