Casseroles
Much like
soups and stews
, casserole recipes can be very creative, not only in terms of the many different ingredients that can be combined together, but the ways in which they can be prepared. Most casseroles are easy to make
and can feed quite a few. No matter what type of casserole recipe you choose to make, the end result will almost always produce be a hot and delicious meal that will satisfy big hunger. Sometimes casseroles contain the basic food groups one would normally serve at dinner, such as a meat, vegetable and carbohydrate, and any type of bread is all that's necessary to serve on the side. Casserole recipes can be made with a variety of meats, vegetables, cheeses, sauces, and topped with cheese, crunchy or other toppings. Some of the most popular casserole recipes are breakfast casseroles, chicken casseroles, bean casseroles, beef casseroles, rice casseroles and vegetable casseroles. This page includes a variety of casseroles made with chicken, beef, pork, tuna, potatoes and other vegetables, and will continue to share new exciting casserole ideas as they are discovered.
Casserole Recipes ▼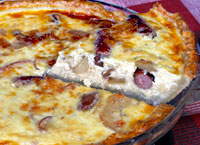 Combining sliced apples, little sausages and swiss cheese may seem like an unlikely marriage of ingredients, but
Apple Sausage Quiche
is proof these flavors marry surprisingly beautifully! Sliced apples are briefly simmered with the little sausages, blending the flavors and lightly browning the sausages while tenderizing the apples. Red or golden delicious, gala or fuji apples can be used with this quiche recipe.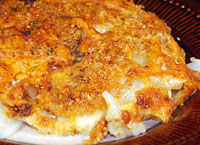 This delicious
Au Gratin Potatoes with Crumb Topping recipe
makes a great side dish for most any meal. Also often referred to as Scalloped Potatoes or Potatoes Au Gratin, this potato and cheese casserole features thin slices of potatoes baked with a creamy cheddar cheese sauce that whips up on the stove in just minutes. A delicious cheese and bread crumb topping is sprinkled over the top, giving it a delightful cheesy crunch!
Cauliflower and Broccoli Gratin
(also sometimes referred to as "au gratin") is a delicious way to add cheesy flavor and color to these two popular vegetables. This easy vegetable recipe features cauliflower and broccoli florets baked with a homemade creamy cheddar cheese sauce until hot and bubbly and the top turns to a beautiful golden brown. The creamy cheese sauce is easily made on your stove top in just minutes.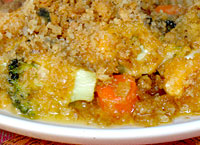 Broccoli, cauliflower and carrots are the perfect threesome for this cheesy, buttery and crumbly dish! Simply combine some cheddar cheese and butter with your veggies, top them with some buttered cracker crumbs, and pop it in the oven for a short time. This
cheesy vegetable casserole
nicely accompanies most any meat or seafood dish, or can be enjoyed as a meatless main dish. Kids will enjoy this as well!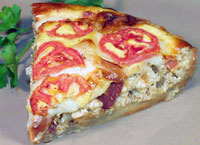 This
Chicken & Bacon Quiche
recipe combines the celebrated flavors of chicken, bacon and Swiss cheese, and mixes them with a seasoned egg mixture that has a wonderful creaminess provided by the addition of sour cream and milk. Chicken & Bacon Quiche is a festive dish that can be served for breakfast, brunch, lunch or dinner, and is even great as a quick cold snack right from the fridge!
This
Chicken and Cheese Casserole
has a uniquely delicious flavor with a variety of goodies! Chunks of chicken are mixed with a blend of peas, onions and mushrooms, combined with a cheesy sauce and a hint of Tabasco, then topped with buttery, light and crunchy corn flake crumbs that crisp in the oven. This chicken dish can be made using canned mushrooms, or you can saute your own. Both deliver tasty results!