Casseroles
Much like
soups and stews
, casserole recipes can be very creative, not only in terms of the many different ingredients that can be combined together, but the ways in which they can be prepared. Most casseroles are easy to make
and can feed quite a few. No matter what type of casserole recipe you choose to make, the end result will almost always produce be a hot and delicious meal that will satisfy big hunger. Sometimes casseroles contain the basic food groups one would normally serve at dinner, such as a meat, vegetable and carbohydrate, and any type of bread is all that's necessary to serve on the side. Casserole recipes can be made with a variety of meats, vegetables, cheeses, sauces, and topped with cheese, crunchy or other toppings. Some of the most popular casserole recipes are breakfast casseroles, chicken casseroles, bean casseroles, beef casseroles, rice casseroles and vegetable casseroles. This page includes a variety of casseroles made with chicken, beef, pork, tuna, potatoes and other vegetables, and will continue to share new exciting casserole ideas as they are discovered.
Casserole Recipes ▼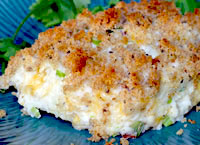 If you like
Twice-Baked Potatoes
, then you'll love this
Potato Cheese Casserole
! This easy potato casserole recipe features boiled and grated potatoes, cheddar cheese,crumbled bacon, sliced green onions, sour cream and a little butter, all mixed together and placed in a casserole dish. To top it all off, a delicious buttery seasoned bread crumb topping is sprinkled over the top, turning golden brown and crispy as it bakes.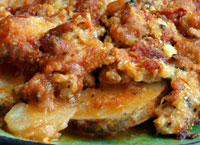 Potato Pizza Lasagna
is a fun, tasty and economical alternative to traditional lasagna recipes. If you enjoy pizza, lasagna and potatoes, you'll be able to enjoy the flavors of all three with this tasty potato and pizza lasagna recipe! For those following a gluten-free diet, this recipe can also be served as a gluten free lasagna. This potato casserole can be baked in the oven (1 hour 15 minutes) or microwave oven (20 minutes).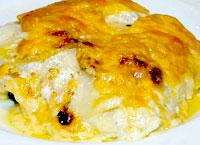 This
easy Potatoes Au Gratin recipe
features thinly sliced potatoes in a creamy cheddar cheese sauce, baked until hot, golden and bubbly. This potato casserole serves as a perfect side dish for meat, poultry and seafood dishes, and is a popular side dish for holidays, such as Christmas and Thanksgiving. If you own a vegetable slicer (or mandolin slicing tool), you can whip this dish up in no time!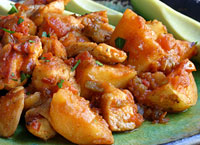 What could be better than a dinner dish that is unbelievably quick and easy to make and delivers fabulous flavor?
Salsa Chicken and Potatoes
is one of those quick and easy dishes that truly delivers! This easy chicken dish features a combination of chunks of chicken and potatoes in a simple yet full-flavored sauce made with chicken broth and pre-bottled chunky salsa. Any type of potato can be used with this recipe.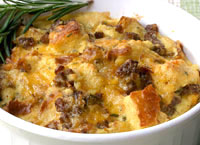 Sausage Strata with Rosemary
is an easy gourmet style casserole dish that is delicious served for breakfast, brunch, lunch or dinner. This sausage strata recipe can be baked in one casserole dish or in smaller individual serving size ramekins. Made with eggs, shredded cheddar cheese, crumbled breakfast sausage, cubes of roasted garlic bread and fresh chopped rosemary, this casserole dish has texture and flavor suited for all ages!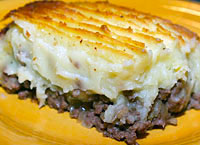 Shepherd's Pie (also sometimes referred to as Cottage Pie) is a great way to combine meat and potatoes into one tasty casserole dish. This traditional and easy
Shepherd's Pie recipe
features lean ground beef combined with diced carrots, celery and onions, minced garlic and an assortment of seasonings. (You can also add peas to this recipe if desired.) The attractive pattern on top is simply created with the tines of a fork.