Casseroles
Much like
soups and stews
, casserole recipes can be very creative, not only in terms of the many different ingredients that can be combined together, but the ways in which they can be prepared. Most casseroles are easy to make
and can feed quite a few. No matter what type of casserole recipe you choose to make, the end result will almost always produce be a hot and delicious meal that will satisfy big hunger. Sometimes casseroles contain the basic food groups one would normally serve at dinner, such as a meat, vegetable and carbohydrate, and any type of bread is all that's necessary to serve on the side. Casserole recipes can be made with a variety of meats, vegetables, cheeses, sauces, and topped with cheese, crunchy or other toppings. Some of the most popular casserole recipes are breakfast casseroles, chicken casseroles, bean casseroles, beef casseroles, rice casseroles and vegetable casseroles. This page includes a variety of casseroles made with chicken, beef, pork, tuna, potatoes and other vegetables, and will continue to share new exciting casserole ideas as they are discovered.
Casserole Recipes ▼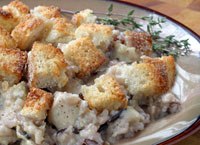 This
Chicken and Wild Rice Casserole recipe
has a creamy, cheesy consistency and flavor, and the wild rice and toasted Parmesan sourdough bread cube topping give it lively texture! This casserole will please all ages and leave big hunger feeling very satisfied. Along with all the other tasty ingredients, this casserole recipe features chunks of chicken breast and chopped artichoke hearts, making a fabulous combination of flavors.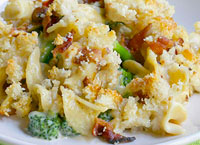 Chicken Broccoli Bake
is creamy and cheesy, and true comfort food filled with all the good stuff! Steamed broccoli florets are combined with fresh lemon juice and placed in a casserole dish. Chicken breast and noodles mixed with a creamy cheddar cheese sauce are then poured over the broccoli. The casserole is then topped with cooked and crumbled bacon and a top crust made of fresh bread crumbs, butter and Parmesan cheese.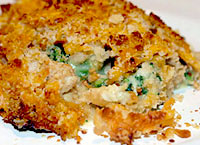 Chicken Curry Casserole
features chicken, broccoli florets and sliced mushrooms in a creamy chicken and curry-flavored sauce, topped with a delicious crumbly mixture of cracker crumbs, cheddar cheese and butter that gives wonderful light crunch to every bite. This casserole recipe uses cream of chicken soup, which not only adds creaminess and flavor to this chicken dish, it makes it very quick and easy to put together.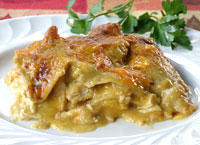 This amazingly quick and easy
Chicken Enchilada Casserole
will not disappoint! This delicious cheesy chicken casserole recipe features layers of corn tortillas, shredded o r cubed chicken (or turkey), grated cheddar cheese and green enchilada sauce. Simply layer the ingredients in a casserole dish. When baked, the juices bubble through and the top layer of corn tortillas, sauce and cheese becomes golden and crispy!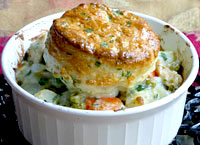 This chicken pot pie recipe comes with a homemade biscuit recipe that cooks large biscuits right on top of your pie mixture, turning them golden and flaky with a nice glisten that comes from brushing them with an egg wash before baking.
Chicken Pot Pie with Biscuits
features chicken pieces, potatoes, carrots, celery, peas, onions and parsley in a creamy sauce made with chicken stock and a roux mixed with heavy cream.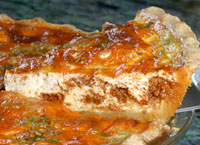 One could say this
Chorizo Quiche in Cornmeal Crust recipe
has a bit of a Mexican theme, because it's made with chorizo sausage and is baked in a cornmeal crust, though it could take on other themes as well, depending on the type of chorizo used. This easy quiche recipe is great served as a breakfast quiche, though can also be served with brunch, or for lunch or dinner served with a green
salad
. Great hot or chilled!