Casseroles
Much like
soups and stews
, casserole recipes can be very creative, not only in terms of the many different ingredients that can be combined together, but the ways in which they can be prepared. Most casseroles are easy to make
and can feed quite a few. No matter what type of casserole recipe you choose to make, the end result will almost always produce be a hot and delicious meal that will satisfy big hunger. Sometimes casseroles contain the basic food groups one would normally serve at dinner, such as a meat, vegetable and carbohydrate, and any type of bread is all that's necessary to serve on the side. Casserole recipes can be made with a variety of meats, vegetables, cheeses, sauces, and topped with cheese, crunchy or other toppings. Some of the most popular casserole recipes are breakfast casseroles, chicken casseroles, bean casseroles, beef casseroles, rice casseroles and vegetable casseroles. This page includes a variety of casseroles made with chicken, beef, pork, tuna, potatoes and other vegetables, and will continue to share new exciting casserole ideas as they are discovered.
Casserole Recipes ▼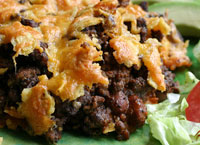 Taco Casserole
takes very little effort to make, tastes great and is enjoyed by all ages. This easy casserole recipe is made with ground beef with some seasonings, a can of chili with beans, your favorite salsa, cheddar cheese and corn or tortilla chips. This dish will satisfy big hunger at a very reasonable cost! Taco Casserole tastes great accompanied by sour cream and any salsa of your choice as well as avocado, lettuce and tomatoes.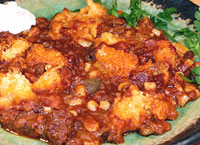 Though this dish is called "
Tamale Pie
," it's really a casserole in disquise. The meat filling in this tasty Mexican casserole recipe consists of a tomato and chili-flavored sauce made with sautéed onions, green bell pepper and garlic. Corn kernels are added and the meat filling is poured over a wonderful cornmeal crust flavored with butter and Parmesan cheese. More cornmeal crust is added to the top, becoming crispy and delicious!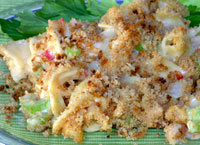 Tuna Noodle Casserole with Crumb Topping
is the perfect dish when you're short on time or simply too tired to to spend much time in the kitchen, yet want a meal with great taste. This tuna casserole recipe calls for a can of cream of celery soup, a can of tuna, noodles, cheddar cheese, sliced celery, sliced onion, pimiento, and of course, the tasty sauce. The tasty bread crumb topping is made with bread crumbs and melted butter.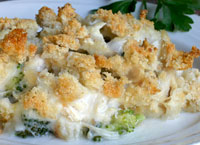 Turkey Broccoli Casserole
features strips of cooked turkey combined with a creamy Swiss cheese sauce that easily whips up on the stove. The cheesy turkey mixture is poured into a casserole dish over a layer of broccoli florets, then soft fresh bread crumbs that have been combined with a generous amount of Parmesan cheese and some butter are sprinkled over the top, and crisp and brown beautifully in the oven!