Stir-Fry
Stir frying is all about color, texture and flavor and is an simple, quick and easy way to whip up a delicious and healthy meal. Stir-fry recipes can be
made up of any number of ingredients, including meat, seafood, vegetables, legumes and pasta. While chicken stir-fry recipes probably rank among the most popular, pork stir-fry, beef stir-fry and shrimp stir-fry dishes follow very closely behind and are just as delicious! Stir-fry recipes can be made with virtually any type of meat or seafood, and always taste fresh and are packed with vibrant flavor.
Whether making a quick and easy stir-fry recipe with a few seasonings, or adding more flair with a stir-fry sauce, the end result is always fresh and delicious. You can also get creative when stir-frying. When it comes to vegetables, nature provides a rainbow of colors, and you can add most any of your favorite vegetables to your stir-fry pan or wok with many stir-fry recipes, giving them more color and personalized flavor.
Stir-Fry Recipes ▼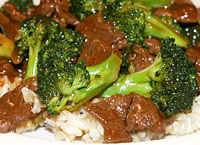 Beef and Broccoli
is a very popular Chinese stir-fry dish, possibly because it has just the right amount of spice to appeal to both the tame and wild at heart. This stir-fry recipe starts with thin tender strips of lean steak and broccoli florets that are briefly soaked in a soy sauce and fresh garlic marinade. The steak is browned and the broccoli is stir-fried to tender-crisp, then a flavorful sauce is stirred into the beef and broccoli. Great over rice!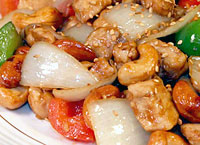 Cashew Chicken
is fresh, light and healthy, and stir-fries in just minutes. The chicken is cooked until perfectly tender and the vegetables are stir-fried with some minced fresh ginger root until crisp-tender. The cashews are also quickly stir-fried, tenderizing them and giving them a toasty brown color. This colorful mixture is then quickly cooked with a mild Asian sauce that adds just the right amount of flavor to this healthy chicken stir-fry dish.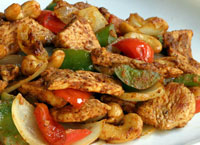 Chicken Curry Stir-Fry
is light, healthy and delicious, and takes only 8-9 minutes to cook! This chicken stir-fry recipe is flavored with an Indian flair and features slices of chicken breast, red and green bell pepper, onions, and cashews. While the vegetables are sauteeing, the chicken is briefly marinated with a mixture of plain yogurt, curry paste (hot, medium or mild), minced ginger root, paprika, freshly squeezed lime juice and crushed garlic.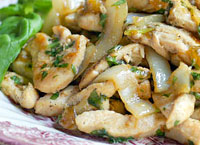 Chicken with Basil
is a fresh stir-fry dish powerfully flavored with fresh basil, fresh mint leaves and diced green chiles. Sliced chicken breasts and onions are cooked until tender, then a mild and tangy sauce made with fresh basil and mint leaves, diced mild green chiles, soy sauce, vinegar and a hint of sugar are stirred in with the chicken and onions, producing a fresh and fabulous flavor combination. Fantastic alone or with rice!
Serving a variety of vibrant-colored vegetables can make getting your daily dose of vitamins and fiber a festive experience!
Confetti Vegetable Stir-Fry
features baby corn, snow peas, broccoli, small red potatoes, carrots, sweet red peppers and a combination of white, orange, green and purple cauliflower. These vibrant vegetables are stir-fried with a sauce made of cooking sherry, soy sauce, scallions, sesame oil, ginger and garlic.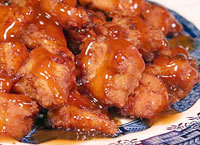 This
Crispy Sweet and Sour Chicken
whips up in less than 30 minutes, and will give you that fresh restaurant taste without the restaurant price! Bite-size tender chunks of chicken are coated with a light egg and cornstarch batter, then fried until crispy and golden. A wonderful sweet and sour sauce that takes just minutes to prepare is drizzled over the top, giving this chicken dish the perfect final touch and eye appeal.