Stir-Fry
Stir frying is all about color, texture and flavor and is an simple, quick and easy way to whip up a delicious and healthy meal. Stir-fry recipes can be
made up of any number of ingredients, including meat, seafood, vegetables, legumes and pasta. While chicken stir-fry recipes probably rank among the most popular, pork stir-fry, beef stir-fry and shrimp stir-fry dishes follow very closely behind and are just as delicious! Stir-fry recipes can be made with virtually any type of meat or seafood, and always taste fresh and are packed with vibrant flavor.
Whether making a quick and easy stir-fry recipe with a few seasonings, or adding more flair with a stir-fry sauce, the end result is always fresh and delicious. You can also get creative when stir-frying. When it comes to vegetables, nature provides a rainbow of colors, and you can add most any of your favorite vegetables to your stir-fry pan or wok with many stir-fry recipes, giving them more color and personalized flavor.
Stir-Fry Recipes ▼
Crispy Sweet and Spicy Shrimp
is a Korean dish (also called Kan-Pung Saewoo), featuring shrimp that have been coated with a cornstarch and baking powder mixture and deep-fried until crispy, then briefly stir-fried in a sweet, spicy and tangy sauce along with dried red chili peppers, sliced garlic, sliced green onions and hot green and red pepper rings. The end result is a wonderfully light and crispy appetizer or main dish.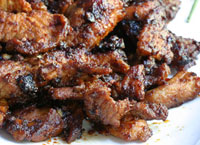 Dwaeiji Bulgogi
(also sometimes spelled Daeji Bulgogi) is a spicy Korean pork recipe featuring thin slices of pork shoulder that are marinated in a flavor-packed thick sauce made with Asian spices. The marinated pork is then briefly stir-fried until cooked yet still tender and served alone or over a bed of rice. Some Asian spices included in this dish are red pepper powder, soy sauce, sesame oil and mirin.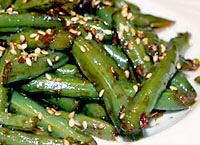 Here's a quick way to turn green beans into a delightful tangy vegetable side dish! This
Garlic and Ginger Green Bean recipe
features sliced green beans that are stir-fried with minced garlic and ginger, then cooked with a sauce made with soy sauce, dry sherry (or water), olive or other oil and a dash of sugar until the beans are crisp-tender. The beans are then topped with toasted sesame seeds, giving this dish added flavor and texture.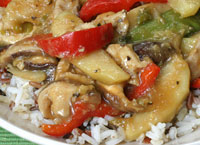 When it comes to quick and easy healthy chicken recipes, stir-fry recipes just can't be beat! This
Ginger Chicken Stir-Fry with Apples recipe
is as fresh and healthy as can be, made with a colorful blend of crisp-tender vegetables, slices of chicken breast and apples stir-fried with a tangy and delicious sauce flavored with applesauce, soy sauce, chicken broth (or water) and apple cider vinegar. Perfect served over rice!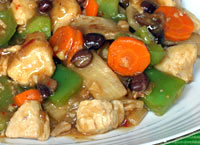 Hot and Sour Chicken
is a robust dish that will wake up your taste buds! This stir-fry recipe features bite-size chunks of chicken breast that are briefly marinated in a tangy sauce, then stir-fried with green bell pepper, sliced carrots, bamboo shoots, black beans, garlic and ginger. These ingredients come to life with the addition of a tangy sauce made with chicken broth, white wine vinegar, soy sauce, black pepper and red pepper flakes.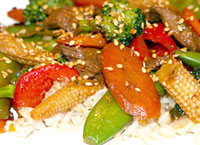 This healthy
Korean Stir-Fry recipe
features a colorful medley of colorful vegetables and thin slices of marinated pork or beef, stir-fried with a tangy sauce made with Asian ingredients, as well as a number of other ingredients you likely already have in your pantry. The sauce (a portion of which is also used for the marinade) has a delicious robust and tangy flavor, and is made by combining a wonderful blend of Asian flavors.