Beef & Broccoli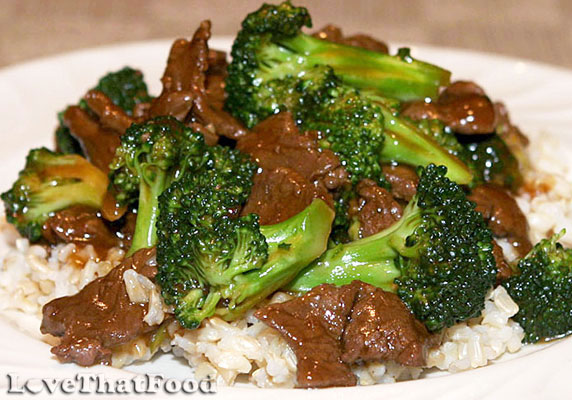 Tips:
For added spice, simply add an extra dash or two of cayenne pepper.
Suggestion:
Delicious served alone or over any type of rice or chow mein or other long noodles.
Beef and Broccoli is a very popular Chinese stir-fry dish, possibly because it has just the right amount of spice to appeal to both the tame and wild at heart. No doubt another reason for its popularity is the fact that broccoli goes so well with almost any
stir-fry dish, and this Beef & Broccoli recipe is no exception.
This stir-fry recipe starts with thin tender strips of lean steak and broccoli florets, and soaks them briefly in a soy sauce and fresh garlic marinade. Once the steak is browned and the broccoli florets have been stir-fried to tender-crisp, a sauce made with beef broth, ground ginger, dry sherry, a dash of cayenne pepper and cornstarch (to help the sauce thicken) is added, and the beef and broccoli are stir-fried for a minute or two until the sauce thickens. This vibrant and delicious stir-fry dish can then be served on its own,over any type of rice, chow mein or other long noodles (photo above shows this dish served over brown rice). For those who like things a little more on the spicy side, you can kick up the heat by adding an extra dash or two of cayenne pepper.
Ingredients
Beef & Broccoli

12 oz. (3/4 lb.) broccoli
1 lb. lean boneless beef steak (any lean cut)
2 tablespoons soy sauce
2 cloves garlic, minced
1/4 cup oil
2-4 tablespoons water



Stir-Fry Sauce

1 1/2 tablespoons cornstarch
1/4 teaspoon ground ginger
dash cayenne pepper
2 tablespoons dry sherry
1 1/4 cups beef broth
Directions
Beef & Broccoli
Trim broccoli florets so stems are 1 to 1 1/2-inches in length. (Tip: Cutting stems on the diagonal gives the broccoli a more aesthetic look.) Cut florets as needed to create bite-size pieces. Set aside.
Trim off any excess fat from the beef. Slice beef with the grain into 1 1/2-inch-wide pieces, then thinly slice those beef pieces against the grain diagonally (this makes the slices of beef more tender). Place beef slices in a medium mixing bowl with soy sauce and garlic. Stir to combine. Set aside and allow to marinade for 15 minutes.
Stir-Fry Sauce
While beef is marinating, prepare Stir-Fry Sauce: In a small mixing bowl, whisk together cornstarch, ground ginger, cayenne pepper, dry sherry and beef broth. Set aside.
Heat a wok or large skillet over high heat. When wok or skillet is hot, add 2 tablespoons of the oil. Allow oil to heat for about 30 seconds, then add the beef and stir fry until meat is browned (about 2-3 minutes). Remove beef from skillet and set aside in a bowl.
Add remaining 2 tablespoons oil to wok or skillet. Allow oil to heat about 30 seconds, then add broccoli and stir-fry for about 1 minute. Add 2 tablespoons water. Cover and cook for about 3 more minutes until broccoli is tender-crisp (taste one small piece of broccoli to test doneness). Add beef back to skillet along with Stir-Fry Sauce and stir until well blended and thickened (about 1-2 minutes).
Serve alone or over any type of rice or chow mein or other long noodles.
Other recipes you might like: