Salads
The ways in which one can create a salad are endless! With such a large variety of salads out there, there's no need to confine ourselves to the routine dinner salad topped with our favorite bottled dressing. Salads are so versatile, and can be served for lunch, as a dinner salad before a main course, the main course itself or a side dish along with a main course. Salads can come in the form of leafy
greens, such as Romaine leaves, iceberg lettuce, butter lettuce or red lettuce, as well as watercress, spinach arugula and more. Salads can also be made with vegetables (such as potatoes, carrots, asparagus, beans and cucumbers), pasta, cabbage (for coleslaw), tuna and eggs, as well as fruits and gelatins.
Salads provide a healthy dose of fiber, vitamins and minerals (some more than others, depending on the salad ingredients used). As shown below, they can contain any variety of ingredients, including avocado, chicken, pasta, tomatoes, bean sprouts, celery, fruit, beans, corn chips, seafood, and can be dressed with any number of salad dressings. Below you will find recipes for a variety of leafy green and other salads, as well as some potato salad recipes. Salads are almost always quick and easy to put together, with just a little chopping and mixing - and if you let your creative side emerge, will be entertaining as well as delicious!
Salad Recipes ▼
This
healthy salad recipe
features mixed baby greens tossed with a fresh, tangy and mildly sweet homemade dressing made with olive oil, red wine vinegar, honey, orange juice, finely chopped pecans and seasoning. The mixed greens are tossed with the salad dressing, then arranged on individual serving plates. The mixed greens are then topped with pear slices, crumbled feta and dried cranberries (or pomegrante seeds).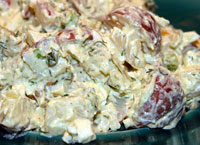 Mustard Dill Red Potato Salad
is colorful and creamy and has wonderful fresh and tangy flavor. This red potato salad is made using red potatoes, sliced celery, sliced green onions and fresh chopped dill, along with some hard-cooked eggs that give this salad additional flavor, texture and color. The delicious creamy dressing is made with sour cream (rather than mayonnaise), two types of mustard, white vinegar and celery seed.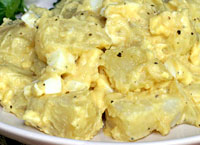 Though
Mustard Potato Salad with Egg
might appear similar to Midwestern Potato Salad, it leans more on the tangy side. This salad gets its vibrant yellow color from the yolks of chopped hard-cooked eggs and a generous helping of yellow mustard. It's lively, tangy flavor comes from a homemade Italian dressing mixture made with olive oil, white vinegar, crushed garlic and a blend of a number of other herbs and spices.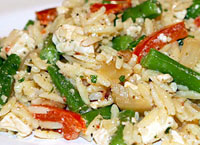 Orzo, Feta and Bean Salad
features an unexpected marriage of ingredients that makes a fabulous salad with vibrant flavor. This salad is made with orzo (rice-shaped pasta) that is tossed with green beans (blanced to a tender crisp), tomatoes, garlic, onions and crumbled feta cheese. These ingredients are then tossed with the perfect tangy oil and vinegar dressing, giving this salad its tangy and fabulous flavor!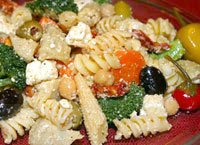 This
Pasta Salad recipe
is refreshing, delicious and colorful, and features a wonderful combination of ingredients: Rotini pasta with broccoli, marinated artichoke hearts, baby corn, garbanzo beans, carrots, feta cheese, sundried tomatoes and green and kalmata olives. These ingredients are tossed with an easy-to-make light and tangy homemade Italian dressing and a generous helping of Parmesan cheese.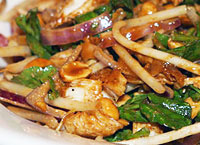 You won't find any ordinary salad ingredients in this chicken salad recipe!
Peanut Butter Chicken Salad
features shredded chunks of chicken breast, bean sprouts, fresh watercress, thinly sliced red onion and peanuts tossed with an Asian-flavored peanut butter dressing that gives this salad outstanding and distinct flavor. This is a great salad for entertaining friends or for treating yourself to an amazingly tasty lunch or dinner!