Salads
The ways in which one can create a salad are endless! With such a large variety of salads out there, there's no need to confine ourselves to the routine dinner salad topped with our favorite bottled dressing. Salads are so versatile, and can be served for lunch, as a dinner salad before a main course, the main course itself or a side dish along with a main course. Salads can come in the form of leafy
greens, such as Romaine leaves, iceberg lettuce, butter lettuce or red lettuce, as well as watercress, spinach arugula and more. Salads can also be made with vegetables (such as potatoes, carrots, asparagus, beans and cucumbers), pasta, cabbage (for coleslaw), tuna and eggs, as well as fruits and gelatins.
Salads provide a healthy dose of fiber, vitamins and minerals (some more than others, depending on the salad ingredients used). As shown below, they can contain any variety of ingredients, including avocado, chicken, pasta, tomatoes, bean sprouts, celery, fruit, beans, corn chips, seafood, and can be dressed with any number of salad dressings. Below you will find recipes for a variety of leafy green and other salads, as well as some potato salad recipes. Salads are almost always quick and easy to put together, with just a little chopping and mixing - and if you let your creative side emerge, will be entertaining as well as delicious!
Salad Recipes ▼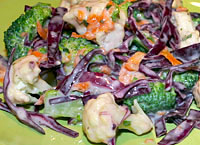 This
Cauliflower and Broccoli Slaw recipe
is a delightful alternative to traditional coleslaw and has vibrant color as well as valuable nutritional health benefits! This colorful vegetable coleslaw features a mixture of cauliflower and broccoli florets, shredded carrots, thinly sliced red cabbage and red onions. These fresh ingredients are tossed with a tangy Zesty Ranch Dressing made with the perfect blend of ingredients.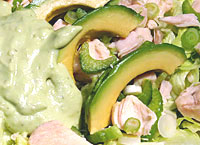 This
Chicken and Avocado Salad recipe
is fresh and satisfying, and features a pretty variety of green colors. This delicious salad is made with chicken breast chunks, thinly sliced celery and green onions in a bed of crispy iceberg lettuce. It is then topped with a delightful light and creamy avocado dressing that's flavored with lemon juice and fresh dill. Surprisingly, avocado dressing served with an avocado salad is the perfect combo!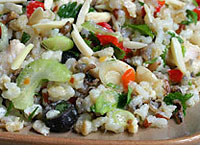 Chicken and Rice Salad with Red Pepper Vinaigrette
is a light and refreshing salad made with a tangy and delicious Red Pepper Vinaigrette dressing. This salad features chunks of chicken breast, a mixed rice blend, celery slices, sliced ripe olives, sliced green onion and diced pimientos, and is delicious served on its own or over large lettuce leaves, garnished with whole ripe olives, tomato slices and slivered almonds.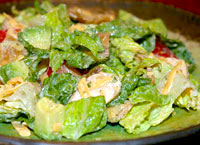 This
Chicken Chipotle Ranch Salad recipe
is a festive and delicious salad, featuring crisp romaine leaves tossed with sliced chicken breast, chunks of red bell peppers, grated cheddar cheese and chopped fresh cilantro. This salad is then tossed with a zesty salad dressing that begins with a buttermilk ranch dressing base, then adds the lively flavors of chipotle and salsa along with some tasty herbs.
Chicken Noodle Salad with Spicy Peanut Dressing
is a colorful salad with distinctively vibrant flavor! Chunks of chicken breast, linguine pasta and thinly-sliced orange sweet bell peppers are tossed with a peanut dressing that has just the right amount of spice and tanginess. The dressing is made with peanut butter, rice vinegar, soy sauce, sesame oil, fresh ginger root, cayenne pepper and a little sugar, and brings this salad to life!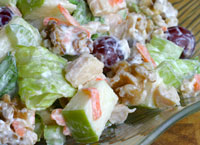 This
Chicken Salad with Grapes and Apples recipe
combines crisp romaine leaves, tender chunks of chicken breast, red grapes, bite size chunks of Granny Smith apples combined with lemon juice, grated carrot and walnut pieces, all tossed with a simple light and creamy dressing made with low-fat or non-fat mayonnaise and non-fat or low-fat sour cream (regular mayonnaise and/or sour cream may also be used).