Salads
The ways in which one can create a salad are endless! With such a large variety of salads out there, there's no need to confine ourselves to the routine dinner salad topped with our favorite bottled dressing. Salads are so versatile, and can be served for lunch, as a dinner salad before a main course, the main course itself or a side dish along with a main course. Salads can come in the form of leafy
greens, such as Romaine leaves, iceberg lettuce, butter lettuce or red lettuce, as well as watercress, spinach arugula and more. Salads can also be made with vegetables (such as potatoes, carrots, asparagus, beans and cucumbers), pasta, cabbage (for coleslaw), tuna and eggs, as well as fruits and gelatins.
Salads provide a healthy dose of fiber, vitamins and minerals (some more than others, depending on the salad ingredients used). As shown below, they can contain any variety of ingredients, including avocado, chicken, pasta, tomatoes, bean sprouts, celery, fruit, beans, corn chips, seafood, and can be dressed with any number of salad dressings. Below you will find recipes for a variety of leafy green and other salads, as well as some potato salad recipes. Salads are almost always quick and easy to put together, with just a little chopping and mixing - and if you let your creative side emerge, will be entertaining as well as delicious!
Salad Recipes ▼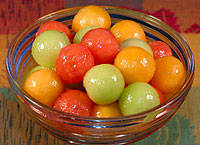 Salads don't get much more colorful than this! Cantaloupe, honeydew melon and water melon come together to create this beautiful fruit salad that will bring life to any table. These assorted melon balls are marinated in a Honey Lime dressing that gives this
Polka Dot Melon Salad
a tart and sweet coating, making this melon ball salad stand apart from the traditional plain melon ball salad.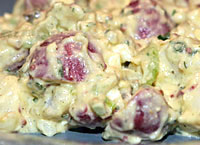 Red Potato Salad
is creamy and delicious and just as pleasing to the eye! This potato salad features quartered small red potatoes hard-cooked eggs, sliced celery, sliced green onions, chopped fresh parsley and diced sweet pickles, tossed with a delicious yellow-tinted creamy and tangy dressing, producing a wonderful blend of flavors. Delicious as a side dish, and perfect for picnics, barbecues, parties or any social event.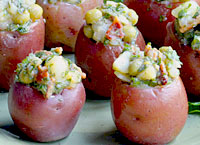 Red Potato Cups
make a finger food great appetizer or snack or even a side dish in place of potato salad. This baby red potato recipe features boiled small red potatoes that have been hallowed out and stuffed with a tangy red potato salad made with diced red potato, fresh herbs, bacon, peas, Dijon mustard, red wine vinegar and olive oil. These adorable snacks are small enough to pop in your mouth all at once or can be eaten with a fork.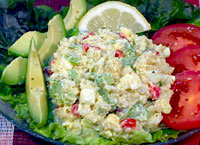 Rice and Egg Salad
is a chilled salad made with rice, hard cooked eggs, thinly sliced celery and green onions and diced pimientos. This mixture is combined and tossed with a creamy salad dressing made with equal parts of sour cream and mayonnaise, along with lemon juice, prepared mustard and seasonings. This tasty salad has a similar consistency to tuna salad or
Salmon Rice Salad
but contains no meat or fish.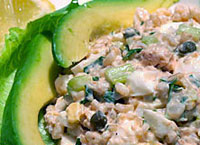 Salmon Rice Salad
is made with flaked salmon chunks, brown rice, celery, hard-cooked eggs, parsley, chives and capers and is blended with a creamy dressing made with sour cream and mayonnaise, along with chopped fresh parsley and some freshly squeezed lemon juice. It is a great salad for luncheons, dinners, picnics, and can be served as a side or main dish. Surprisingly, this salad can also be served as a dip with a variety of crackers.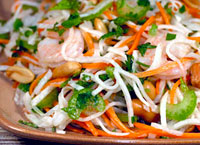 Shrimp Salad with Jicama and Carrot
is light and refr eshing, and made with some unexpected salad ingredients that will pleasantly surprise you. If preferred, this shrimp salad recipe can also be made with chicken breast. This colorful salad is made with fresh julienned jicama and carrots, sliced celery, chopped mint and cilantro, minced mild serrano chile peppers and peanuts, and is tossed with a light yet distinct Thai-style dressing.