Salads
The ways in which one can create a salad are endless! With such a large variety of salads out there, there's no need to confine ourselves to the routine dinner salad topped with our favorite bottled dressing. Salads are so versatile, and can be served for lunch, as a dinner salad before a main course, the main course itself or a side dish along with a main course. Salads can come in the form of leafy
greens, such as Romaine leaves, iceberg lettuce, butter lettuce or red lettuce, as well as watercress, spinach arugula and more. Salads can also be made with vegetables (such as potatoes, carrots, asparagus, beans and cucumbers), pasta, cabbage (for coleslaw), tuna and eggs, as well as fruits and gelatins.
Salads provide a healthy dose of fiber, vitamins and minerals (some more than others, depending on the salad ingredients used). As shown below, they can contain any variety of ingredients, including avocado, chicken, pasta, tomatoes, bean sprouts, celery, fruit, beans, corn chips, seafood, and can be dressed with any number of salad dressings. Below you will find recipes for a variety of leafy green and other salads, as well as some potato salad recipes. Salads are almost always quick and easy to put together, with just a little chopping and mixing - and if you let your creative side emerge, will be entertaining as well as delicious!
Salad Recipes ▼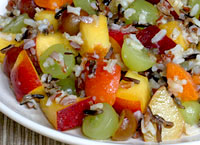 This refreshing and colorful fruit salad is perfect for lunch, picnics, parties, and is especially delicious on a hot summer day!
Fruit and Wild Rice Salad
features chunks of fresh peaches, apricots, plums and grapes and wild rice, combined with a light and tangy and mildly sweet dressing made with freshly squeezed lime juice. This is the perfect summer salad when all these wonderful fruits are in season and found in abundance!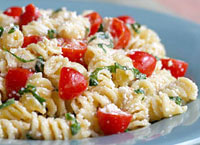 Fusilli with Ricotta and Cherry Tomatoes
is a light and fresh pasta dish made with fusilli pasta (also sometimes called "bow tie pasta"), fresh basil, cherry tomatoes, garlic and ricotta and Parmesan cheeses. This pasta recipe can be served warm (just after the fusilli has been cooked) as a main or side dish, or cold after being chilled in the fridge as a pasta salad.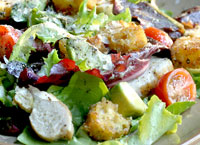 Aside from the freshness of the ingredients used, what truly makes a garden salad delightful is the salad dressing. This
Garden Salad with Dijon Vinaigrette
features baby spring mix (a variety of baby red and green leaves), grape tomatoes, avocado, chicken breast and homemade croutons tossed with a tangy, light and fresh Dijon mustard vinaigrette dressing that will give your salad glistening shine and fabulous flavor!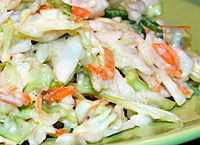 With the added flavors of horseradish, jalapeno and green onions, this
Horseradish Coleslaw recipe
is a welcomed change from traditional coleslaw recipes that tend to have a more mild flavor. This coleslaw contains just the right amount of spice (provided by prepared horseradish and coarse-grained mustard) to give it that "kick" without being too hot to handle, which makes it perfect for serving all ages.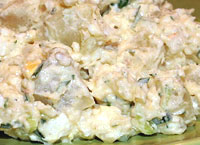 Horseradish is a distinct flavor that nicely compliments potatoes, adding a subtle but distinct "kick." This
Horseradish Potato Salad recipe
is a lively and welcomed change from traditional potato salad recipes, and beautifully accompanies a large variety of meals. This potato salad features large chunks of potatoes, hard-cooked eggs and green onions in a dressing of sour cream, mayonnaise, horseradish and fresh parsley.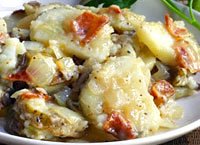 Hot German Potato Salad
is quite different from traditional potato salad recipes, in that it is served hot right from the skillet. This tangy and delicious potato salad features large slices of potatoes, large pieces of crumbled crisp bacon and diced sauteed onions combined with celery seed, apple cider vinegar and some of the bacon fat from the crisped bacon. This salad is moist, hot and steamy, and will surprise and delight!