Salads
The ways in which one can create a salad are endless! With such a large variety of salads out there, there's no need to confine ourselves to the routine dinner salad topped with our favorite bottled dressing. Salads are so versatile, and can be served for lunch, as a dinner salad before a main course, the main course itself or a side dish along with a main course. Salads can come in the form of leafy
greens, such as Romaine leaves, iceberg lettuce, butter lettuce or red lettuce, as well as watercress, spinach arugula and more. Salads can also be made with vegetables (such as potatoes, carrots, asparagus, beans and cucumbers), pasta, cabbage (for coleslaw), tuna and eggs, as well as fruits and gelatins.
Salads provide a healthy dose of fiber, vitamins and minerals (some more than others, depending on the salad ingredients used). As shown below, they can contain any variety of ingredients, including avocado, chicken, pasta, tomatoes, bean sprouts, celery, fruit, beans, corn chips, seafood, and can be dressed with any number of salad dressings. Below you will find recipes for a variety of leafy green and other salads, as well as some potato salad recipes. Salads are almost always quick and easy to put together, with just a little chopping and mixing - and if you let your creative side emerge, will be entertaining as well as delicious!
Salad Recipes ▼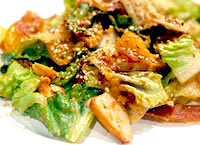 This
Chinese Chicken Salad recipe
features lettuce greens, slices of chicken breast, mandarin oranges and crispy wonton strips tossed with a delicious and tangy Asian dressing made with a blended mixture of peanut butter, olive or other oil, hoisin sauce, wine vinegar, chili garlic sauce, garlic powder, honey and pepper. This salad is refreshing and colorful, and entertains a variety of textures that will be enjoyed to the last bite!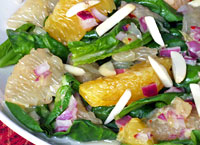 Citrus Spinach Salad with Almonds
is truly delicious and loaded with health benefits! This pretty salad features fresh spinach leaves, sections of navel oranges and grapefruit with diced red onion. A salad dressing made with orange juice, white wine vinegar, honey, fresh ginger root and red pepper flakes is briefly marinated with the fruit, then topped over the spinach leaves along with toasted slivered or sliced almonds.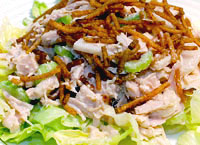 Crispy Chicken Salad
is made with tender chunks of chicken breast, thinly sliced celery, sliced water chestnuts and crispy chow mein noodles. This light salad is then mixed with a creamy salad dressing made with mayonnaise, a hint of Worcestershire sauce and a dash of onion powder and served over a bed of crisp iceberg lettuce leaves. Crispy chow mein noodles are baked with butter and Worcestershire sauce and sprinkled on top.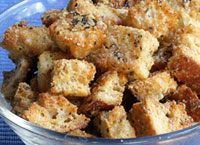 Once you see how easy
homemade croutons
are to make and how fantastic they taste, seasoned with herbs and filled with the distinct flavors of garlic and Parmesan cheese, you'll probably never pick up a package of pre-made croutons at the store again. These
Croutons
are not only delicious with salads, they are perfect for sprinkling on top of soups and stews, and make a tasty crunchy snack!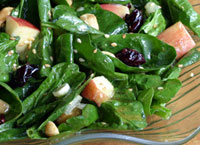 This
Curried Spinach Salad recipe
features fresh spinach leaves combined with apple chunks, sliced green onion, dry roasted peanuts, dried cranberries (or raisins) and sesame seeds. These colorful ingredients are tossed with a tangy and very tasty homemade spinach salad dressing made with oil, white wine vinegar, curry powder, chutney, dry mustard, a little sugar and a dash of hot pepper sauce (such as Tabasco).
This
Four Bean Salad recipe
has a sweet and tangy flavor, and is a perfect salad to serve at picnics and BBQ's (can last all day with no refrigeration), or as a side dish to any main course anytime. Sliced green and wax beans, kidney beans and garbanzo beans (chick peas) along with slivered green bell pepper and green onion (optional, but delicious!), are tossed with a dressing made with a combination of oil, vinegar, sugar and salt.