Bread
Bread has been loved all around the world for thousands of years. It's no wonder, considering the many ways bread can be made, flavored and incorporated into so many foods, not to mention how universally good it tastes! Bread can be served as a
main course for breakfast, a tasty accompaniment to a meal, or an anytime snack. It can be used in baked dishes and casseroles, desserts and more. Bread recipes shown below include croutons, pizza dough, breadsticks, biscuits, quick breads, muffins, croissants (crescent rolls) and more, as well as flavo rful spreads to top bread. Making your own homemade bread is much easier than you think. With the invention of the bread machine, making a loaf of homemade bread is as simple as a press of a button. Making bread without a bread machine is still very easy, giving you more control over the entire process as well as the shaping of the bread before you bake it, and quite frankly, it's fun! For bread recipes on the 'sweet' side such as muffins, cinnamon rolls and other breakfast foods, please visit the Breakfasts page.
Bread Recipes ▼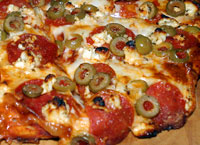 It's no wonder that
Pizza
is popular all over the world! It can be made so many ways, with any variety of toppings, and can be served for breakfast, lunch or dinner. Pizza dough can also be made using a wide variety of ingredients, including different flour types, cheese, herbs and more. The Pizza page offers recipes for a variety of pizzas as well as pizza dough and a pizza loaf (homemade bread wrapped around pizza ingredients).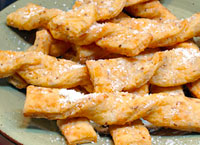 These
Sesame Cheese Twists
are made with a few simple ingredients - grated cheddar cheese, grated Parmesan cheese, toasted sesame seeds, a little chilled butter and some flour mixed with a little salt and a pinch of cayenne pepper. The beautiful thing about these breadsticks is how easy they are to whip up, how quickly they bake, and the fact that you can play around with the types of cheese and spices to give them your own flair.
This moist
Whole Wheat Banana Bread recipe
produces the best banana bread I have ever tried, perhaps because of its healthy and hearty quality and simply wonderful flavor. What also might make this
whole wheat banana bread
stand apart from the rest is the fact that it is made with whole wheat flour and a generous helping of sour cream, giving it wholesome goodness and a moist texture you can sink your teeth into!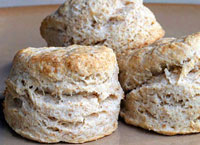 These
Whole Wheat Biscuits
are fluffy and delicious, puff up beautifully, and easily pull apart just like
Flaky Buttermilk Biscuits
. For those who enjoy the flavor and texture of breads made with whole wheat flour, you can probably imagine how tasty these wholesome biscuits are! This easy whole wheat biscuit recipe uses a combination of whole wheat and all-purpose flour and plain yogurt. Delicious fresh out of the oven!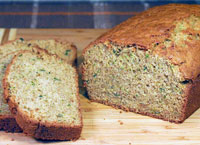 Zucchini Bread
will pleasantly surprise you! The unique flavors in this delicious quick bread recipe remind one of the holidays because of the festive spices used. Though there is a healthy amount of zucchini in this zucchini bread recipe, zucchini is not at all the dominant flavor you will taste. Orange, lemon, cinnamon and ginger combined with the little green specs of zucchini give this quick bread delicious and delightful flavor!