Bread
Bread has been loved all around the world for thousands of years. It's no wonder, considering the many ways bread can be made, flavored and incorporated into so many foods, not to mention how universally good it tastes! Bread can be served as a
main course for breakfast, a tasty accompaniment to a meal, or an anytime snack. It can be used in baked dishes and casseroles, desserts and more. Bread recipes shown below include croutons, pizza dough, breadsticks, biscuits, quick breads, muffins, croissants (crescent rolls) and more, as well as flavo rful spreads to top bread. Making your own homemade bread is much easier than you think. With the invention of the bread machine, making a loaf of homemade bread is as simple as a press of a button. Making bread without a bread machine is still very easy, giving you more control over the entire process as well as the shaping of the bread before you bake it, and quite frankly, it's fun! For bread recipes on the 'sweet' side such as muffins, cinnamon rolls and other breakfast foods, please visit the Breakfasts page.
Bread Recipes ▼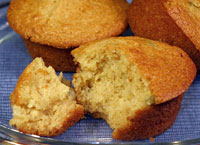 This
Honey Cornbread Muffin recipe
has fabulous flavor and a moistness that can't be beat! Sweetened with honey, these irresistible muffins are made with real kernels of corn and diced mild green chiles (optional), giving them great added texture and flavor. If you prefer to not have whole kernels of corn in your muffins, you can simply puree the corn in a small food processor or blender.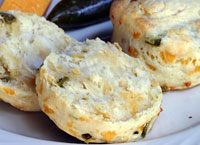 These
Jalapeno Cheddar Biscuits
have the flaky pull-apart goodness of
Flaky Buttermilk Biscuits
with the festive flavor and texture bonus of shredded cheddar cheese and diced pickled jalapenos. These lively biscuits are great served with all sorts of main courses, with breakfast, brunch or anytime! Cheddar Jalapeno Biscuits are delicious served hot and fresh from the oven or toasted in the toaster oven, topped with butter.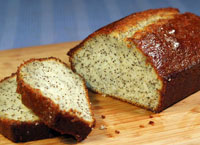 Lemon Bread with Lemon Glaze
is a light and fluffy quick bread recipe flavored with lemon zest and poppy seeds, then drizzled with a delicious lemon glaze over the top while the bread is still warm from the oven. This bread can be served with breakfast and brunch or as a mildly-sweet dessert, perhaps with a cup of coffee or tea. If you've ever tasted a lemon poppy seed muffin, then you you know how delicious these flavors taste combined!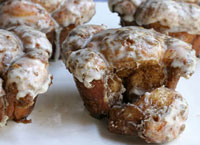 Monkey Bread Muffins
are pull-apart buns with a soft and tender dough and a buttery brown sugar and cinnamon baked-in filling that melts in your mouth. Fresh out of the oven, the tops are brushed with a delicious mouth-watering glaze that makes these buns officially irresistible! These buns have separate sections much like
monkey bread
(or pull-apart bread) that allow you to pop one delicious morsel in your mouth at a time!
These fluffy
Pepperoni Cheese Twists
(also often referred to as pizza breadsticks or Italian breadsticks) are seasoned with garlic and stuffed with diced pepperoni, mozzarella and Parmesan cheese The dough is made from scratch (very easy!), and each piece is twisted and coated with melted butter and more Parmesan cheese. This tasty
breadstick recipe
is easy to make and cooks in only about 10 minutes.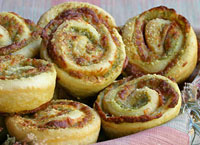 Pesto, Pepperoni and Cheese Pinwheels
are soft and puffy dough snacks filled with fresh pesto, six different types of Italian-style grated cheese and pepperoni slices. These pinwheel appetizers (also sometimes referred to as roll-ups or pepperoni rolls) have an attractive swirl design that captures all the delicious flavors, and make perfect appetizers or snacks, or are great served for lunch or dinner, much like pizza.