Bread
Bread has been loved all around the world for thousands of years. It's no wonder, considering the many ways bread can be made, flavored and incorporated into so many foods, not to mention how universally good it tastes! Bread can be served as a
main course for breakfast, a tasty accompaniment to a meal, or an anytime snack. It can be used in baked dishes and casseroles, desserts and more. Bread recipes shown below include croutons, pizza dough, breadsticks, biscuits, quick breads, muffins, croissants (crescent rolls) and more, as well as flavo rful spreads to top bread. Making your own homemade bread is much easier than you think. With the invention of the bread machine, making a loaf of homemade bread is as simple as a press of a button. Making bread without a bread machine is still very easy, giving you more control over the entire process as well as the shaping of the bread before you bake it, and quite frankly, it's fun! For bread recipes on the 'sweet' side such as muffins, cinnamon rolls and other breakfast foods, please visit the Breakfasts page.
Bread Recipes ▼
Cheese Bread
is a great accompaniment to most any meal, and is only a few ingredients away! All you need to make this Cheese Bread recipe is some softened butter, cheddar cheese, Romano cheese, Worcestershire sauce, garlic powder and paprika. It's simply a matter of mixing these ingredients together, then spreading them over your favorite type of bread (French bread, sourdough bread, ciabatta, etc.).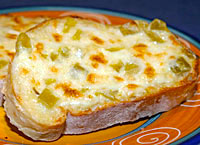 Chile Cheese Bread
offers a festive twist to bread, and wonderfully accompanies Mexican or other spiced-up dishes! These lively bread slices feature a simple spread made with Monterey jack cheese, diced green chiles and mayonnaise. The chile peppers are offer a mildly spicy kick, as well as color and texture. This cheese and chile spread tastes great with
Crusty French Bread
, sourdough bread, ciabatta or any other similar breads.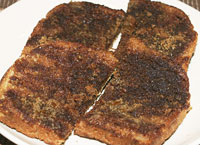 For those mornings when you need a quick breakfast or simply crave something a little sweet,
Cinnamon Toast
fits the bill! Photo above shows Cinnamon Toast made with whole grain wheat bread, but you can use any type of bread you like. It's a good idea to make the Cinnamon Sugar recipe in a larger amount and store it with your spices for future use, because it stores indefinitely, and will come in handy!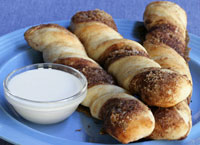 If you like cinnamon rolls, then you'll enjoy this
Cinnamon Twists recipe
! These sweet breadsticks are made with the same kind of soft and fluffy dough, and the same delicious buttery cinnamon, brown sugar and white sugar filling. A recipe for a buttery vanilla icing is included that can be served on the side for dipping (as shown in photo) or drizzled over the top. Alternatively, you can simply coat the twists with sugar for a nice outer crunch!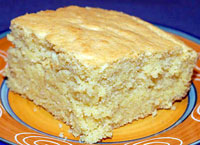 This traditional
sweet Cornbread recipe
is delicious with hot soup or chili, or as an accompaniment to any main course or salad. It can also be served for breakfast with butter and honey or your favorite jam, preserves or jelly. This cornbread recipe produces a is light and fluffy cornbread and is sweetened with honey rather than sugar, which gives it a wonderful flavor and texture. Also great briefly reheated in the microwave!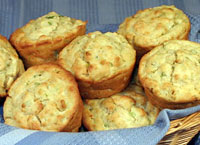 These unique muffins have a light and spongy texture and taste great warm topped with butter. Crushed rice cereal squares are a surprising ingredient used in this cream cheese muffin recipe, adding a delightful spongy texture. While many muffins made with cream cheese have a mild sweetness about them, these
Cream Cheese and Green Onion Muffins
are more like a uniquely-flavored bread used to color up a meal or add variety and flavor.