Bread
Bread has been loved all around the world for thousands of years. It's no wonder, considering the many ways bread can be made, flavored and incorporated into so many foods, not to mention how universally good it tastes! Bread can be served as a
main course for breakfast, a tasty accompaniment to a meal, or an anytime snack. It can be used in baked dishes and casseroles, desserts and more. Bread recipes shown below include croutons, pizza dough, breadsticks, biscuits, quick breads, muffins, croissants (crescent rolls) and more, as well as flavo rful spreads to top bread. Making your own homemade bread is much easier than you think. With the invention of the bread machine, making a loaf of homemade bread is as simple as a press of a button. Making bread without a bread machine is still very easy, giving you more control over the entire process as well as the shaping of the bread before you bake it, and quite frankly, it's fun! For bread recipes on the 'sweet' side such as muffins, cinnamon rolls and other breakfast foods, please visit the Breakfasts page.
Bread Recipes ▼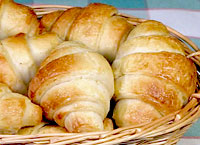 These crescent-shaped
Croissants
are light, flaky and buttery, and are wonderful fresh from the oven, toasted or served at room temperature. These French pastries (also known as crescents or crescent rolls) can be made in any size and can be served in a variety of ways. Small croissants make wonderful appetizers, medium-sized croissants are great as a side dish for any meal, while large sizes can be used for sandwiches.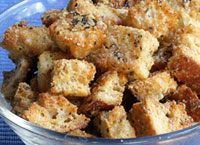 Once you see how easy
homemade croutons
are to make and how fantastic they taste, seasoned with herbs and filled with the distinct flavors of garlic and Parmesan cheese, you'll probably never pick up a package of pre-made croutons at the store again. These
Croutons
are not only delicious with salads, they are perfect for sprinkling on top of soups and stews, and make a tasty crunchy snack!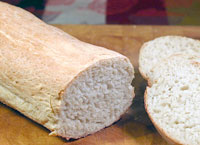 Who doesn't love a hot crusty loaf of French bread fresh out of the oven? This
Crusty French Bread recipe
produces a light and fluffy bread that is protected by a wonderful crispy outer crust. It can easily be made using a conventional oven or a bread machine. Making French bread from scratch is much easier than most would think, and it only takes a few ingredients you likely have in your kitchen!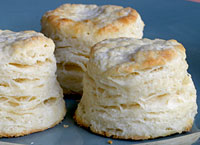 Flaky Buttermilk Biscuits
are easy to make and bake very quickly. They are light and very flaky, and taste spectacular hot from the oven! These flaky biscuits are delicious topped with butter and/or jams, jellies, preserves or any other toppings. They easily heat up in the microwave in seconds. These biscuits are also fabulous with sausage gravy. See
Biscuits and Sausage Gravy
.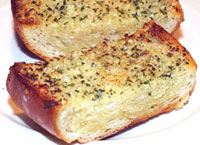 Homemade Garlic Bread
is so easy to make, and has a fresh taste that can't be beat. All you need to make this Garlic Bread recipe is a loaf (or a few individual slices) of any bread of your choice (sourdough, French, Ciabatta, or most any other bread will do) and the delicious garlic bread spread in this recipe. The beauty of making your own garlic bread is that you can make it on demand, and it will always offer that fresh homemade taste!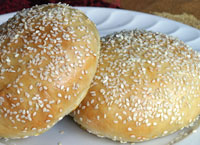 If you've ever wondered how to make your own homemade hamburger buns, this
Homemade Hamburger Buns recipe
will show you just how easy and rewarding it is! These soft and fresh homemade hamburger buns will add a gourmet touch to your hamburgers, and can be made plain or coated with your choice of sesame seeds, poppy seeds, oats, minced onions or whatever topping you enjoy!