Monkey Bread Muffins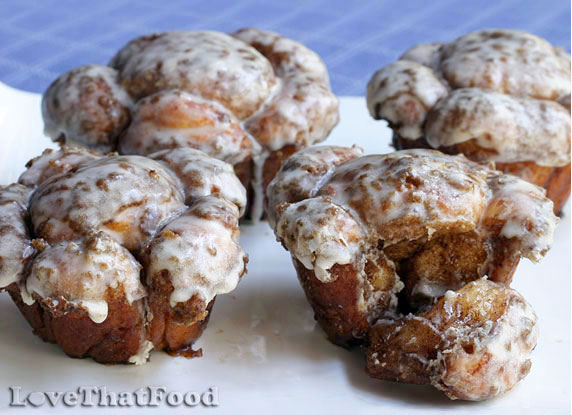 Tips:
Kids can help with this recipe!
Suggestion:
Delicious served for breakfast, brunch, dessert, snacks and holidays or other events.
Monkey Bread Muffins (also considered cinnamon buns) are miniature single-serving versions of monkey bread (also called gorilla bread or pull-apart bread), a sweet bread made by baking small clumps of dough together that have been flavored with a buttery cinnamon and sugar filling. These Monkey Bread Muffins have a soft and tender dough and a buttery brown sugar and cinnamon baked-in filling that melts in your mouth. Fresh out of the oven, the tops are brushed with a
delicious mouth-watering vanilla glaze that makes these buns officially irresistible! Just like monkey bread, these sweet cinnamon buns have separate sections that easily pull apart from the rest of the bun so you can pop each buttery cinnamon and sugar-coated section in your mouth one-at-a-time. If you enjoy Cinnamon Rolls, cinnamon buns, Cinnamon Toast or sticky buns, then you will without a doubt love Monkey Bread Muffins!
This easy cinnamon bun recipe is fun to prepare and is a great recipe for the kids to lend a helping hand. You'll just need some time to allow the dough to rise. The rest is a matter of cutting the dough into sections, then forming little balls to be rolled in melted butter and the cinnamon-sugar mix. The balls are then inserted into muffin cups in a muffin baking sheet and baked until puffy. Last, but certainly not least, I highly recommend trying a Monkey Bread Muffin fresh out of the oven (or at least sharing one with your helpers) just after topping it with the glaze. PS: Milk lovers, make sure you have some ice cold milk nearby...
Ingredients
Dough

1 package (or 1 tablespoon) active dry yeast
1/4 cup warm water
3 tablespoons butter, melted
2/3 cup sour cream
3 tablespoons sugar
1 large egg
1 teaspoon vanilla extract
2 1/2 cups flour, plus more as necessary
1/2 teaspoon salt
1/4 teaspoon baking soda



Cinnamon-Sugar Filling

(Note: Make up to 3 batches of filling as needed - see recipe for details.)
1/3 cup packed light brown sugar
1 teaspoon cinnamon
3 tablespoons butter, melted



Vanilla Glaze

1 3/4 cups confectioner's (powdered) sugar
1 tablespoon butter, melted
1 tablespoon milk
1 teaspoon vanilla extract
water as needed to thin glaze
Directions
Dough
Pour warm water into an electric mixer bowl, then sprinkle yeast over water. Allow to sit and dissolve for 5-10 minutes. Add butter, sour cream, sugar, egg and vanilla extract to bowl, then insert bread hook attachment to electric mixer. Mix on low-medium until well-blended and creamy.
In a separate medium mixing bowl, whisk together flour, salt and baking soda. Add flour mixture to electric mixer ingredients and mix on low until incorporated. Increase speed to low-medium and continue mixing until dough becomes smooth and pliable. If dough sticks to the side of the bowl, add 1 tablespoon of flour and mix into dough. Continue adding 1 tablespoon of flour at a time (thoroughly mixing in after each addition) just until dough doesn't stick to the bowl or your fingers and is still soft and pliable. Remove dough and transfer to a lightly floured work station.
Knead the dough (press and fold the dough into itself repeatedly) for about 3-5 minutes. Sprinkle small amounts of flour to work surface and dough as needed to prevent dough from sticking to hands or work surface. Oil a large glass bowl, then form dough into a ball. Place ball of dough in oiled bowl, turning to coat entire surface of dough ball with oil. Cover bowl with plastic wrap and allow to sit in a warm place until dough doubles in size (about 1 hour).
After dough has doubled in size, transfer to lightly floured work surface. Press dough down, then form into a smooth long cylinder shape (about 12-14 inches long). Using a sharp knife or pastry scraper/chopper, cut dough into 12 equal portions. Cut each of the 12 portions into 6 smaller portions. Form each small portion of dough into little balls, spacing balls so they don't touch each other (dough tends to stick to itself).
Preheat oven to 350° F. Make sure the center rack has enough room above it for the muffins to rise. Grease or spray a 12-muffin (for regular-sized muffins, not large) baking sheet with nonstick spray and place near work area.
Cinnamon Sugar Filling
In a small mixing bowl, mix sugar and cinnamon. Place melted butter in a separate small shallow bowl. Roll each ball in the melted butter, then roll in the cinnamon-sugar mixture until thoroughly coated.
[Note: You can make up to 3 batches of the Cinnamon-Sugar filling, depending on how much you use to coat the dough balls (and how much you prefer in your buns). Make extra batches only as needed - do not make a large batch all at once, because the cinnamon-sugar mixture will become too buttery and sticky, making it difficult to coat dough balls. Photo above used 3 batches to create cinnamon filling shown.]
Arrange 5 balls in the bottom of a muffin cup, gently moving balls as necessary to make them fit. Make a small well in the center of the 5 balls by gently pressing down with your fingers. Roll one last ball in the butter then in the cinnamon-sugar mixture, then place it in the well. Continue this process until all muffin cups have been filled.
Bake muffins on center rack for 20-22 minutes. Place a cooling rack in work area with a sheet of wax paper placed underneath. Remove muffins from the oven and place entire muffin sheet on cooling rack. Allow muffins to cool for about 5-8 minutes. Once cooled, loosen sides of muffins with your fingers or by inserting a table knife into the sides if necessary, then carefully remove muffins (while holding all sections in place) and place on them on the cooling rack.
Vanilla Glaze
Mix all Vanilla Glaze ingredients in a mixing bowl until smooth. Add 1 teaspoon of water as needed to create a consistency that will allow you to easily brush glaze onto muffins (mixing water in thoroughly after each addition). Using a soft pastry brush, apply the glaze to the tops of muffins. After glaze cools, it will help hold the muffin sections together. Eat warm or cooled. Store in an air-tight container after completely cooled and glaze has dried and set. To warm muffins, reheat in microwave oven for 10-20 seconds. May also be frozen.
Other recipes you might like: