Seafood
Many of us grew up with little exposure to a large variety of seafood dishes. This is unfortunate, because with so many ways to prepare, season,
marinate and cook seafood (fish and shellfish),it can be incredibly delicious. There are also many sauces available to use with seafood, adding complimentary flavor. Another benefit of seafood is its plentiful nutritional value. Fish contains Omega 3 fats, which studies have shown can play a huge role in promoting good heart, brain and joint health. Fish is also high in valuable minerals, such as iodine and selenium, and provides Vitamins A and D, as well as zinc. Below you will find seafood recipes for shrimp, halibut, salmon, crab and tuna. You can also find seafood recipes throughout this website using the various recipe category links. I hope you join me in my quest for more delicious seafood recipes. I look forward to discovering new delicious recipes in the days to come.
Seafood Recipes ▼
This easy and delicious
Tilapia recipe
is as wonderful as it looks, featuring tilapia fillets that are briefly sautéed in a silky, elegant and tangy sauce made with white wine, freshly squeezed lemon juice, capers, diced onions and freshly chopped parsley. Making this fish dish is incredibly easy, and takes about only 10 minutes on the stove. The sauce is fresh, tangy and colorful, and is the perfect flavor compliment for these healthy fillets.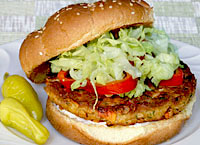 We're familiar with hamburgers, turkey burgers, tofu burgers and even crispy chicken sandwiches - but what about tuna?! This
Tuna Burger recipe
produces a tasty and colorful, light and healthy sandwich that is super easy to make. Spread a little mayonnaise and/or salsa on the buns, then top these Tuna Burgers with your choice of shredded lettuce, red bell pepper rings, tomato slices, avocado slices, guacamole and/or cheese!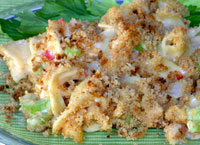 Tuna Noodle Casserole with Crumb Topping
is the perfect dish when you're short on time or simply too tired to to spend much time in the kitchen, yet want a meal with great taste. This tuna casserole recipe calls for a can of cream of celery soup, a can of tuna, noodles, cheddar cheese, sliced celery, sliced onion, pimiento, and of course, the tasty sauce. The tasty bread crumb topping is made with bread crumbs and melted butter.