Seafood
Many of us grew up with little exposure to a large variety of seafood dishes. This is unfortunate, because with so many ways to prepare, season,
marinate and cook seafood (fish and shellfish),it can be incredibly delicious. There are also many sauces available to use with seafood, adding complimentary flavor. Another benefit of seafood is its plentiful nutritional value. Fish contains Omega 3 fats, which studies have shown can play a huge role in promoting good heart, brain and joint health. Fish is also high in valuable minerals, such as iodine and selenium, and provides Vitamins A and D, as well as zinc. Below you will find seafood recipes for shrimp, halibut, salmon, crab and tuna. You can also find seafood recipes throughout this website using the various recipe category links. I hope you join me in my quest for more delicious seafood recipes. I look forward to discovering new delicious recipes in the days to come.
Seafood Recipes ▼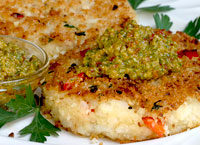 This delicious
crab cakes recipe
begins with a mixture of crab meat, cooked risotto, panko crumbs, Dijon mustard, freshly squeezed lemon juice, mayonnaise and chopped parsley. This mixture is tossed with some sautéed diced red bell peppers and minced onion, then is formed into crab cakes. The crab cakes are fried until golden and served with a delicious and tangy basil pesto made with sun-dried tomatoes.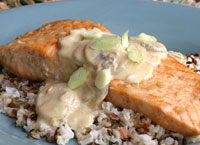 Salmon Dijonaisse
combines ease with elegance, featuring a creamy a white wine sauce that has the delightful tang of Dijon mustard combined with sliced sautéed mushrooms (the mushrooms are optional, though do add nice additional texture to this dish). This baked salmon recipe features quickly browned salmon fillets that are baked, then topped with a sauce that is whipped up in the skillet in just minutes!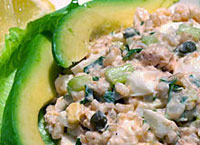 Salmon Rice Salad
is made with flaked salmon chunks, brown rice, celery, hard-cooked eggs, parsley, chives and capers and is blended with a creamy dressing made with sour cream and mayonnaise, along with chopped fresh parsley and some freshly squeezed lemon juice. It is a great salad for luncheons, dinners, picnics, and can be served as a side or main dish. Surprisingly, this salad can also be served as a dip with a variety of crackers.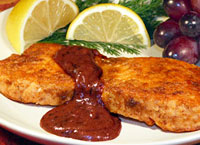 The sauce for this
Salmon with Grape Sauce recipe
is uniquely delicious and vivid with color! It begins with a liquid base of 100% concord grape juice, chicken stock and light cream. Fresh dill and freshly squeezed lemon juice are then added to the sauce to counter the sweetness of the grape juice, giving this sauce an intriguingly wonderful flavor balance that tastes exquisite with salmon.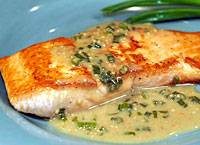 This
Salmon with Maple Mustard Sauce
recipe is an incredibly delicious gourmet dish that is amazingly easy to make. This quick and elegant fish recipe features salmon filets that are sautéed in a skillet to a beautiful color, then drizzled with a delicious sauce that perfectly compliments these fillets. The Maple Mustard Sauce is made with pure maple syrup, Dijon mustard, minced garlic, mustard seeds and chopped scallion greens.