Seafood
Many of us grew up with little exposure to a large variety of seafood dishes. This is unfortunate, because with so many ways to prepare, season,
marinate and cook seafood (fish and shellfish),it can be incredibly delicious. There are also many sauces available to use with seafood, adding complimentary flavor. Another benefit of seafood is its plentiful nutritional value. Fish contains Omega 3 fats, which studies have shown can play a huge role in promoting good heart, brain and joint health. Fish is also high in valuable minerals, such as iodine and selenium, and provides Vitamins A and D, as well as zinc. Below you will find seafood recipes for shrimp, halibut, salmon, crab and tuna. You can also find seafood recipes throughout this website using the various recipe category links. I hope you join me in my quest for more delicious seafood recipes. I look forward to discovering new delicious recipes in the days to come.
Seafood Recipes ▼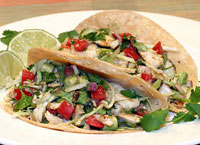 This fresh and healthy
Fish Tacos recipe
features grilled and flaked halibut fillets, but any other flaky fish can be used, such as cod, tilapia, mahi mahi, swordfish, etc. The secret to the unmistakable freshness and rich color of these tacos is in the three-part preparation: The marinade, the taco filling and the homemade salsa, with one common theme being used throughout all three - freshly squeezed lime juice!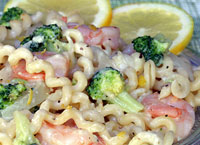 Fusilli with Shrimp and Broccoli
is a colorful and mildly flavored pasta dish with a hint of lemon, featuring fusilli pasta (long and thick corkscrew shaped noodles) with shrimp, broccoli florets, thinly sliced tenderized onions, minced garlic and lemon zest in a mildly seasoned thick and creamy (yet light) sauce that is created on your stovetop in just minutes. This dish is tasty as it is colorful, and is perfect served for lunch or dinner.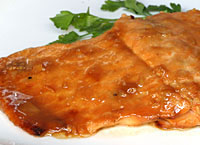 Honey Ginger Salmon
celebrates salmon with an unexpected and delicious sweet and tangy flavor! Salmon fillets are first marinated in a sauce made with soy sauce, grated fresh ginger root, honey, white wine and fresnly squeezed lemon juice. The filets are baked for 15 minutes, then coated with a brown sugar and butter glaze and briefly broiled until the glaze thickens and turns bubbly. Truly delightful!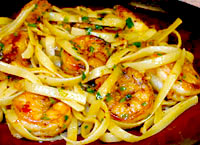 Lemon Garlic Shrimp with Fettucine
is a light, elegant and wonderfully flavored dish featuring large shrimp and linguine noodles tossed with a buttery sauce made with lemon, garlic, white wine and spices along with chopped fresh parsley and green onion tops. Red pepper flakes and cayenne pepper are also added for the perfect amount of peppery spice. This fabulous seafood pasta dish cooks in a very short time and couldn't be easier.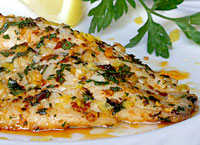 Lemon Pepper Tilapia
features tilapia fillets that are brushed with a garlic, butter and olive oil mixture, then topped with a combination of chopped fresh parsley, paprika and crushed red pepper. The fillets are briefly baked, then topped with lemon zest and drizzled with freshly squeezed lemon. This baked fish recipe presents itself as a colorful and healthy dish, while taking only moments to prepare and less than 15 minutes to cook!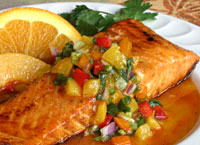 This
Orange Glazed Salmon with Peach Salsa recipe
features grilled salmon fillets that are seasoned with ground ancho chile pepper and salt. A delicious reduced orange glaze made with freshly squeezed orange juice and orange liqueuer is added to the fillets during the last minute of cooking, and a fresh and colorful salsa made with diced peaches. assorted herbs and vegetables and apricot preserves is spooned over the top. Exquisite!