Seafood
Many of us grew up with little exposure to a large variety of seafood dishes. This is unfortunate, because with so many ways to prepare, season,
marinate and cook seafood (fish and shellfish),it can be incredibly delicious. There are also many sauces available to use with seafood, adding complimentary flavor. Another benefit of seafood is its plentiful nutritional value. Fish contains Omega 3 fats, which studies have shown can play a huge role in promoting good heart, brain and joint health. Fish is also high in valuable minerals, such as iodine and selenium, and provides Vitamins A and D, as well as zinc. Below you will find seafood recipes for shrimp, halibut, salmon, crab and tuna. You can also find seafood recipes throughout this website using the various recipe category links. I hope you join me in my quest for more delicious seafood recipes. I look forward to discovering new delicious recipes in the days to come.
Seafood Recipes ▼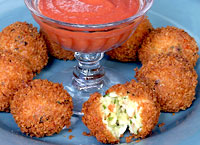 These petite crab appetizers are delicious and elegant, but also have an element of fun, due to their size, crispy coating and delicious tangy sauce.
Crab Croquettes
are made with cooked crab, diced green onions, seasonings and some egg and panko bread crumbs to add flavor and help hold them together during the cooking process. They are then fried using a deep fat fryer or a saucepan until they turn a beautiful crispy golden brown.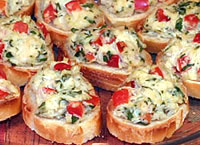 Crab Crostini
is a tasty and colorful appetizer that will add a touch of elegance to any party, holiday or social gathering. This crab appetizer recipe features mini slices of bread topped with a light and delicious flaky crab mixture made with red bell pepper, chives, parsley, Dijon, Parmesan cheese, mayonnaise, hot pepper sauce and some freshly squeezed lime juice. These crostini are also delicious as a lunch or snack.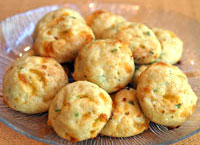 This
Crab Puffs recipe
produces light and puffy appetizer balls that give a touch of elegance and subtle sophisticated flavor to any event. This seafood appetizer is very easy to make and makes plenty! Flour, butter, cheddar cheese, green onions and the right flavorings perfectly compliment the crabmeat. Crab Puffs can be made in advance and baked later. These crab puffs plump up into soft, light and fluffy balls with subtle flavor.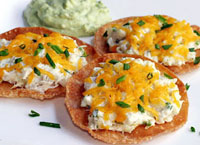 Crispy Crab Wontons with Avocado Creme
feature crispy fried wontons topped with a light and tangy crab salad topped with melted cheddar cheese. This crab wonton recipe also features an Avocado Creme that is served on the side as garnish, made with avocado, lemon juice and a small amount heavy cream. These
Crispy Crab Wontons
can be served for lunch, brunch or dinner, or made into smaller bite-size portions as appetizers.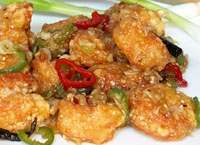 Crispy Sweet and Spicy Shrimp
is a Korean dish (also called Kan-Pung Saewoo), featuring shrimp that have been coated with a cornstarch and baking powder mixture and deep-fried until crispy, then briefly stir-fried in a sweet, spicy and tangy sauce along with dried red chili peppers, sliced garlic, sliced green onions and hot green and red pepper rings. The end result is a wonderfully light and crispy appetizer or main dish.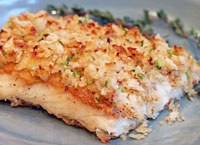 Dijon Crusted Halibut
is a quick and easy fish recipe that will add flavor and texture to these light and flaky fillets. The fillets are fried in a little olive oil, along with some garlic and fresh thyme. Dijon mustard is then spread over the tops of the filets, giving them a mild tangy flavor boost. A simple mixture of fresh bread crumbs, chives and olive oil are gently pressed onto the tops of the fillets, then the fillets are broiled to a light golden brown.