Seafood
Many of us grew up with little exposure to a large variety of seafood dishes. This is unfortunate, because with so many ways to prepare, season,
marinate and cook seafood (fish and shellfish),it can be incredibly delicious. There are also many sauces available to use with seafood, adding complimentary flavor. Another benefit of seafood is its plentiful nutritional value. Fish contains Omega 3 fats, which studies have shown can play a huge role in promoting good heart, brain and joint health. Fish is also high in valuable minerals, such as iodine and selenium, and provides Vitamins A and D, as well as zinc. Below you will find seafood recipes for shrimp, halibut, salmon, crab and tuna. You can also find seafood recipes throughout this website using the various recipe category links. I hope you join me in my quest for more delicious seafood recipes. I look forward to discovering new delicious recipes in the days to come.
Seafood Recipes ▼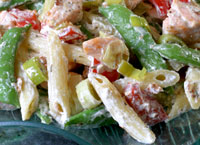 This healthy pasta dish is a terrific way of preparing salmon, and has wonderful fresh flavor, not to mention the vibrant colors it brings to the table!
Salmon with Penne Pasta
features bite-size chunks of salmon, sugar snap peas, chopped red bell pepper, one diced leek and penne pasta (tube-shaped pasta with ridges that help hold on to sauces and flavors). These fresh ingredients are tossed with an easy lemon and dill flavored sauce.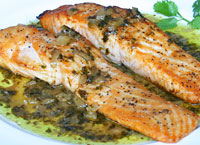 Tender broiled salmon filets are beautifully complimented by a delicious sweet and tangy sauce in this
Salmon with Sweet and Sour Coriander Sauce
recipe. The sauce is made with a combination of butter, diced onions, finely chopped coriander (also known as fresh cilantro), freshly squeezed grapefruit juice, white wine vinegar, Dijon mustard and cumin, and takes less than 10 minutes to make. This easy salmon recipe is truly divine!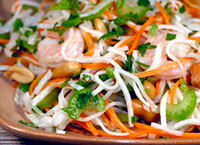 Shrimp Salad with Jicama & Carrot
is light and refreshing, and made with some unexpected salad ingredients that will pleasantly surprise you. If preferred, this shrimp salad recipe can also be made with chicken breast. This colorful salad is made with fresh julienned jicama and carrots, sliced celery, chopped mint and cilantro, minced mild serrano chile peppers and peanuts, and is tossed with a light yet distinct Thai-style dressing.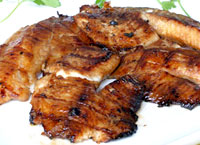 Soy Grilled Fish
is fabulous way to prepare any panfish. This photo shows tilapia fillets, but other fish such as halibut, cod, swordfish, salmon or other fish will work wonderfully with this recipe. The fillets are brushed with a tangy and sweet sauce made with soy, garlic, ginger and a small amount of sugar. They are then grilled on your outdoor grill (or indoor grill) while basting with more of the sauce, until the fish is tender and flaky. Delicious!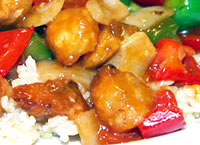 Ever thought of trying a sweet and sour dish with fish? If not,
Sweet and Sour Halibut
is the perfect place to start! Bite-size chunks of halibut are lightly coated with cornstarch, then fried until golden, light and crispy on the outside and tender and flaky on the inside. The halibut is then stir-fried with green and red bell peppers, onion and tomato, adding vivid color and lively texture and flavor, then all is combined with the delicious sauce.
If you're looking for a new and fun, quick and easy way to serve fish that everyone in the family will love, these
Tilapia Sliders
are the perfect answer! These mini sandwiches feature tasty little coated and fried Tilapia filets sandwiched between two soft Hawaiian style buns, together with slices of cheddar cheese, romaine lettuce leaves, tomato slices and a sweet and tangy homemade tartar sauce.