Provolone, Artichoke and Roasted Red Pepper Stuffed Chicken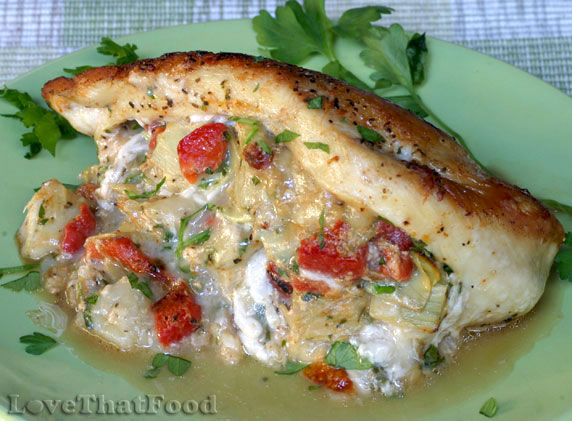 Tips:
Inserting a few wooden toothpicks through chicken at opening before frying and baking will help hold stuffing ingredients in the chicken pocket. The bottom of a spoon can also be used to gently press filling ingredients back into chicken pockets.
This delicious Provolone, Artichoke and Roasted Red Pepper Stuffed Chicken recipe may indeed have a long title, but it does take long to prepare or cook! If you're looking for a chicken dish with elegance, color and fantastic flavor, this chicken dish will certainly deliver! The stuffing is made up of chopped artichoke hearts (canned), chopped roasted red peppers (usually found in glass jars) and chopped slices of provolone cheese (deli-sliced). Making this stuffed chicken dish is amazingly easy. Simply season then slice six boneless, skinless chicken breasts along the side to create pockets, then stuff them with the artichoke, roasted red pepper and cheese mixture.
After a few minutes of browning the chicken in a skillet, these stuffed chicken breasts bake in the oven for as little as 15-20 minutes. When these beautiful chicken creations come out of the oven, the cheese has melted, and the flavors have blended, creating an explosive and divine taste experience!
Some helpful tips: If you have an oven-safe skillet, you won't need to transfer the chicken breasts to a baking sheet after browning - just place the entire skillet and chicken breasts in the oven. If the artichoke stuffing mixture has trouble remaining in the chicken's pockets while browning the stuffed chicken breasts in the skillet, inserting a few toothpicks through the chicken toward the opening of the chicken pockets (positioning the toothpicks on the outside edge of the stuffing) helps to hold the stuffing ingredients in place. (Using the bottom of a spoon to gently press the ingredients back into the pockets whlie browning helps as well.) The tooth picks will need to be carefully removed before turning the chicken over to cook the other side - they can then be inserted again. The toothpicks can remain in the chicken while baking as well, though part of the beauty of this colorful dish is how some of the ingredients spill out during the baking process!
Ingredients
6 boneless, skinless chicken breast halves
salt and pepper (for seasoning chicken)
6 slices deli-style provolone cheese, cut into 1/2-inch squares
3/4 cup canned artichoke hearts, drained and chopped
1/2 cup roasted red peppers, chopped
1 teaspoon coarse salt (kosher or sea salt)
1/2 teaspoon freshly ground black pepper
1/4 teaspoon cayenne pepper
2 tablespoons chopped fresh Italian parsley
1 tablespoon olive oil (for browning)
1 tablespoon chopped parsley (for garnish)
Directions
Preheat oven to 400°F.

Slice each chicken breast lengthwise through the side (nearly all the way through) to create a pocket. Season the chicken breasts (including inside the pockets) with salt and pepper.

In a medium mixing bowl, combine provolone, artichoke hearts, roasted peppers, coarse salt, freshly ground pepper, cayenne pepper and the 2 tablespoons of chopped parsley.

Stuff each chicken breast with equal amounts of the filling. Add olive oil to a large skillet (or ovenproof sauté pan if you have one) and heat over medium-high heat until hot (but not smoking), then place stuffed chicken breasts in the pan and cook for 3-4 minutes until lightly browned. (Note: The back of a spoon and/or toothpicks may be used to help keep filling in place while browning chicken - see recipe description above). Once first side of chicken breasts are browned, gently turn over (removing and reinserting toothpicks if using) and cook for an additional 3-4 minutes.

Using a firm spatula, transfer browned stuffed chicken breasts to a baking sheet (or if using an oven-safe skillet, simply place entire skillet in the oven). Bake for 15-20 minutes.

Transfer stuffed chicken to servings plates and drizzle pan juices over the top of each serving. Garnish each serving lightly with more freshly chopped parsley.
Other recipes you might like: