Sweetheart Cookies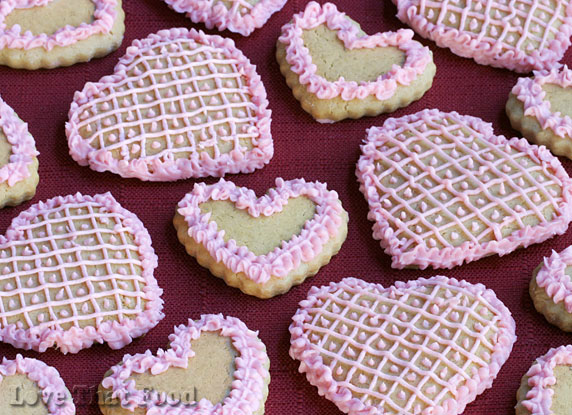 Yield:
About 4 dozen 1 1/4 to 3 1/4-inch heart cookies
Tips:
Cookies may be decorated any way you like, and Icing may divided into sections and colored with various colors, if desired. Example: Flowers with green stems may be piped onto cookies, or red and pink colors can be used together on each cookie.
Suggestion:
These cookies can be made as hearts for Valentine's Day, or made in any other shape (using various cookie cutter shapes) for any holiday or occasion.
These soft and chewy heart-shaped Sweetheart Cookies are the perfect cookie to bake for Valentine's Day, but can also be made any time
of year, simply by using any variety of cookie cutter shapes. The cookie batter is sweetened with honey and brown sugar, and is flavored with hints of lemon and cinnamon, giving these Valentine cookies a unique and festive taste. The creamy butter icing is also flavored with a hint of lemon, and though shown colored pink here, can be made any color to celebrate any occasion.
You can decorate these cookies as they are shown in the photo above, or use your imagination and decorate them any way you like! You can also decorate them with any variety of baking decorations, such as candy beads or sprinkles, using colors that are popular for a given holiday or occasion. If you're baking these cookies for Valentine's Day, pink, red, silver, gold or white colors all work very well for a Valentine's Day theme.
Ingredients
Cookies

1/2 cup butter
1/2 cup firmly packed brown sugar
3/4 cup honey
1 egg
1 teaspoon lemon extract
3 cups all-purpose flour
3/4 teaspoon baking soda
1/2 teaspoon ground cinnamon
1/4 teaspoon salt



Icing

3 cups sifted confectioners sugar
2/3 cup butter
3/4 teaspoon lemon extract
2 tablespoons milk
4-6 drops red food coloring (optional)
Directions
Cookies
Cream butter and brown sugar in an electric mixing bowl until fluffy. Add honey, egg and lemon extract and beat again until smooth and creamy. In a separate medium mixing bowl, whisk together flour, baking soda, cinnamon and salt. Gradually add dry ingredients to butter, sugar and honey mixture. Mix until a soft dough forms, scraping sides and bottom of bowl to incorporate all ingredients. Transfer dough to a work surface. Divide dough in half and form 2 balls, then wrap each ball in plastic wrap and chill 4 hours in refrigerator.
Preheat oven to 350 degrees. On a lightly floured surface using a floured rolling pin, roll out one of the cookie dough balls to a 1/4-inch thickness. Using a heart-shaped cookie cutter (or a variety of heart shaped cookie cutters), cut out cookies. (Tip: If you have small enough heart-shaped cutters, you can also cut out small heart holes in centers of larger heart-shaped cookies.)
Using a spatula, carefully transfer cookies to a greased baking sheet. Bake 7-10 minutes or until cookies are firm to the touch. Cool cookies on pan for about 2 minutes, then trasnfer them with a spatula to a cooling rack. Allow to completely cool. Repeat entire process with remaining dough ball.
Icing
Combine confectioner's sugar, butter, lemon extract, and milk in a medium bowl. Beat (electric handheld mixer is recommended for smoothest results) until smooth. Using a pastry bag with any variety of decoraing tips, pipe desired decoartions onto cookies. Allow icing to become firm, then store cookies ina a single-layer in an airtight container.
Other recipes you might like: