Iced Honey Lemon Cookies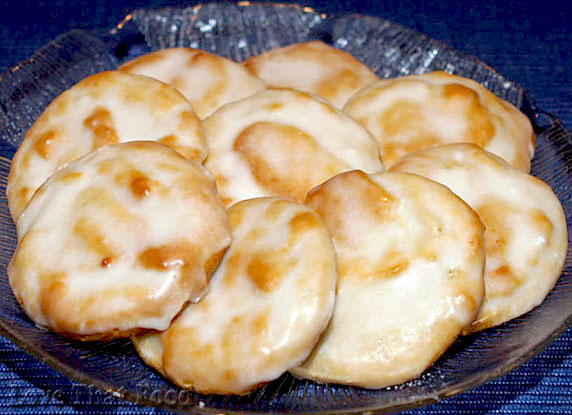 These soft and chewy lemon cookies have refreshing flavor,
and are coated with a light and tangy lemon icing made with a simple mixture of confectioner's (powdered) sugar and freshly squeezed lemon juice that firms up when it cools much like doughnut icing. These cookies are very quick and easy to make, and have a wonderful balance of sweet and tartness that will be enjoyed by all ages.
Iced Honey Lemon Cookies are great any time, or for special events, brunches, luncheons, picnics, barbecues and/or holidays. They are petite and elegant, and make the perfect dessert compliment to any meal. The icing can be adjusted to your liking by adding more freshly squeezed lemon juice for a thinner icing, or by adding additional powdered sugar for a thicker icing.
Ingredients
Cookies

2 cups all purpose flour
1 1/2 teaspoons baking soda
1/2 cup honey
1/2 cup butter, softened
1/4 cup granulated sugar
1 tablespoon finely grated lemon zest (lemon peel)
1 egg



Icing

1 cup powdered (confectioner's) sugar
2 tablespoons lemon juice
Directions
Cookies
Preheat oven to 350 F.
In a small bowl, whisk together flour and baking soda. In an electric mixer bowl, add honey, egg, butter, sugar and lemon zest and beat until creamy and smooth. Reduce speed to low and slowly add flour mixture, blending until smooth.
Drop by rounded teaspoons (about 1 inch-diameter balls) onto nonstick or greased cookie sheets. Bake for 6-7 minutes or until lightly browned. Cool on wire cookie racks.
Icing
While cookies are cooling, in a small bowl, add powdered sugar and lemon juice, and whisk until smooth.
Place paper towels under cookie racks to catch any dripping icing. Dip cookies in icing and place on cookie rack, being careful to not touch the tops of cookies.
Other recipes you might like: