Sugar Cookies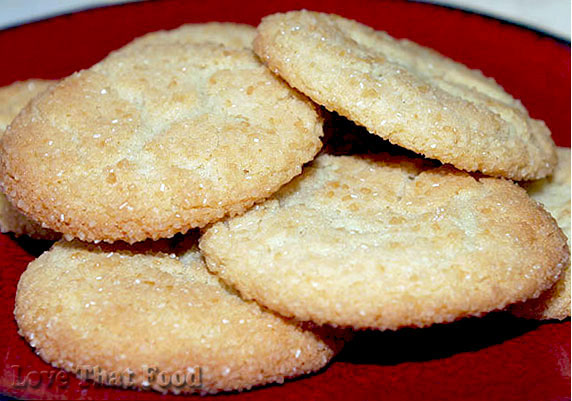 Yield:
4 1/2 dozen or 27 cookies
Tips:
Coarse raw sugar produces the best best for coating cookies, though regular granulated sugar will work as well.
This easy Sugar Cookies recipe produces a soft and chewy sugar cookie with a light outer crunch created by rolling the balls of sugar cookie dough with granulated sugar (preferably coarse raw
sugar) before baking. The result is a light and full-flavored soft and delicious cookie with a pretty glistening sugar crystal coating that gives these cookies a nice crunch with every bite.
Sugar cookies are very versatile, in that they can be decorated to accommodate any occasion or holiday as well. For example, for added color, you can roll the balls of cookie dough in colored sugar crystals before baking. If you'd rather top these cookies with a sugar cookie frosting, simply skip the step of rolling the cookie dough in sugar, and frost the cookies with any type of frosting you prefer. You can of course, use food coloring to color the frosting for a more decorative effect, apply the frosting in any type of design, and even sprinkle any number of candy toppings on top of the frosting. However decorated, these cookies will delight!
Ingredients
2 3/4 cups flour
2 teaspoons cream of tartar
1 teaspoon baking soda
1 teaspoon salt
1 cup (2 sticks) butter, softened
1 1/2 cups sugar
2 eggs
1 teaspoon vanilla extract
Additional sugar for rolling
Directions
In a medium mixing bowl, whisk together flour, cream of tartar, baking soda and salt. Set aside.

In an electric mixer bowl, add butter and 1 1/2 cups sugar on medium speed until light and fluffy. Scrape sides of bowl to make sure you blend thoroughly, then beat for about 15 seconds again. Add eggs and vanilla and beat until well blended and creamy. On low speed, gradually add flour mixture until well blended. Scrape sides of bowl, then beat once again for about 15 seconds.

Transfer dough to refrigerator. Cover with plastic wrap and let cool in refrigerator for about one hour or until dough has become somewhat firm.

Preheat oven to 400° F. Pour about 1/3 cup of sugar (coarse raw is best) into a small bowl. Scoop dough into 1 1/4-inch balls, rolling thoroughly in sugar to coat entire surface. Place balls 2 inches apart on ungreased baking sheets.

Bake for about 6 to 8 minutes or until lightly browned. Cool on baking sheets 1 minute, then remove to wire racks to cool.
Other recipes you might like: