Lemon Bars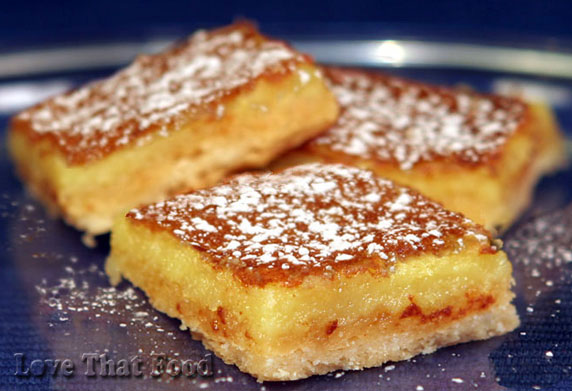 Tips:
When using a convection oven, reduce heat by 25°
Lemon Bars (also called Lemon Squares or Lemon Slices) are light and refreshing dessert bars that consist of a shortbread bottom layer, topped with a light and tangy and chewy lemon topping.
The bottom layer is made with very basic ingredients often found in shortbread cookies (butter, flour and sugar), which gives this bar cookie recipe a buttery and crumbly texture much like Keflins. The topping is made with freshly squeezed lemon juice, lemon zest, eggs and sugar, producing a chewy texture and a sweet yet tangy flavor that beautifully compliments the crumbly bottom layer. When baked, the soft and thin top crust turns into a nice golden brown color. After they cool and are cut into squares, confectioner's sugar (powdered sugar) is lightly sprinkled over the tops of the bars, giving them added flavor and a dramatic visual effect because of the contrast of the white powdered sugar against the golden brown tops. This lemon bar recipe is very easy to make, and will produce a mildly tart and sweet and delightful elegant dessert that is great for brunches, luncheons, events, holidays or anytime.
Ingredients
Bottom Layer

1 cup all purpose flour
1/2 cup butter, softened
1/4 cup confectioner's (powdered) sugar



Top Layer

2 eggs
1 cup granulated sugar
1/2 teaspoon baking powder
1/4 teaspoon salt
2 teaspoons lemon zest (finely grated lemon peel) - (optional)
2 tablespoons lemon juice
confectioner's (powdered) sugar (for dusting over the tops)
Directions
Preheat oven to 350 F.
Bottom Layer
In a medium mixing bowl, add flour, butter and powdered sugar. Use a pastry cutter or fork to smash and blend butter with dry ingredients until mixture resembles coarse crumbs. Use hands to manipulate dough until forms a ball. Press into an ungreased square pan (8x8x2 or 9x9x2 inches), building up edge sides to 1/2 inch. (Note: Rolling dough out to about a 6-8-inch square before transferring to the baking dish makes this process easier.) Bake for 20 minutes.
Top Layer
While bottom shortbread layer is baking, beat remaining ingredients with a handheld or countertop electric mixer until light and creamy (about 3 minutes). Pour over hot crust. Promptly return to oven and bake again for about 20 minutes or until no indentation remains when touched lightly with a finger in the center. (Note: Top will turn golden brown in color.)
Cool, then cut into about 1 1/2-inch squares and dust with confectioner's (powdered) sugar. (Note: You can dust lightly or liberally, depending on your personal preference.)
Other recipes you might like: