Keflens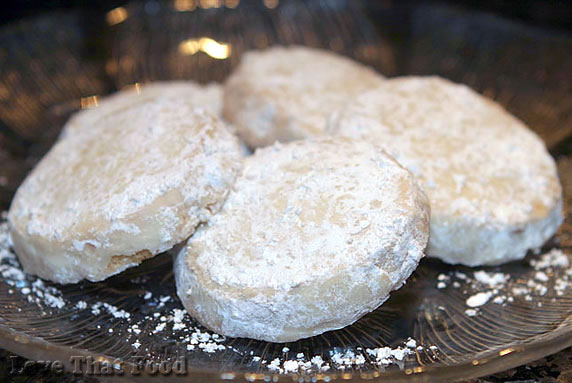 Cook Time:
About 20 minutes
Tips:
Crushed walnuts are optional. Vanilla extract can be used instead of almond extract (though almond extract is recommended).
Caution!: These melt-in-your-mouth shortbread cookies are addicting! Keflens are buttery and crumbly and coated with confectioner's (powdered) sugar and truly seem to melt in your mouth. Once you've taken your first bite, it's
next to impossible to resist another, and another... This shortbread cookie recipe was passed down by my Grandma, Bonnie, who made these cookies famous within our large extended family. She would always bring a tin container of Keflens to every Thanksgiving and Christmas gathering, and it took incredible will power to not dive into them before our holiday feast. My grandmother made these cookies with finely crushed walnuts, though nuts are optional, as the almond extract gives them a subtle nutty flavor as well (though you can use vanilla extract instead of almond, if desired). On top of being delicious and irresistible, these shortbread cookies are very easy to make. After mixing only a few ingredients, simply roll the dough up into rolls, refrigerate until firm, then slice into cookie shapes and bake, cool and coat with the powdered sugar. Luckily, this cookie recipe produces plenty of cookies for those soon-to-become Keflen addicts!
Ingredients
1 lb. butter (4 sticks), softened
1/2 cup sugar
4 cups flour
1/2 teaspoon almond extract
1/2 teaspoon salt
1 cup walnuts (optional, though recommended for optimum flavor)
powdered (confectioner's) sugar
Directions
In a medium-sized mixing bowl, whisk together flour and salt. Set aside.
In an
electric mixer
bowl, combine butter, sugar and almond (or vanilla) extract and blend until smooth and creamy. With mixer on slow speed, gradually add flour to butter mixture, and mix until thoroughly blended.
Note: At this point, if you are using walnuts, crush the walnuts into very small crumbs (using any method you prefer), then add them to the dough mixture and mix with the electric mixer until well-blended.
Transfer cookie dough from electric mixer bowl to a flat work surface. Form the cookie dough into a ball, then cut into 3 equal pieces. Roll each piece into a long log-shaped roll, about 1 1/2 inches in thickness. Wrap each roll in a sheet of wax paper, and place in refrigerator to allow dough to become firm (about 1 hour).
Preheat oven to 350° F.
Remove dough from refrigerator and place on work surface. Using a smooth, sharp knife (not serrated) slice dough into 3/8-inch slices. Place sliced cookies on ungreased baking sheet about 1 inch apart. Bake for 20 minutes or until edges turn a light golden brown.
Allow cookies to cool. Once completely cooled, pour powdered sugar into a small paper bag. Place a few (2-4) cookies in the bag of powdered sugar. Roll down the top of the bag to seal, and gently turn the bag in different directions to completely coat the cookies with the sugar. Lightly handling the cookies, remove them from the bag and place them in a cookie container (they may be stacked). Note: You may also simply place the powdered sugar in a shallow bowl and coat the cookies one-at-a-time with your hands.
Other recipes you might like: