Ginger Cut-Out Cookies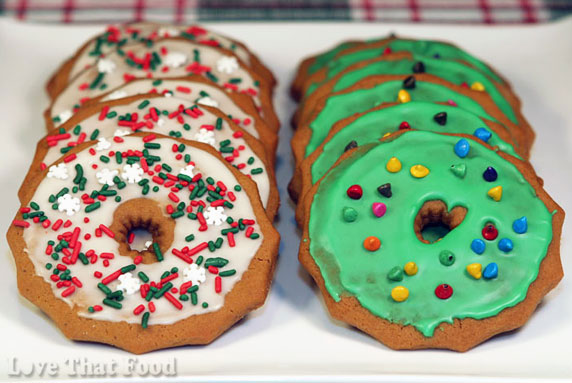 Yield:
3-4 dozen (depending on cookie size)
Tips:
Decorate (and/or cut) cookies in a variety of ways to make an impressive presentation.
Ginger Cut-Out Cookies are soft and chewy, and are filled with that delicious festive flavor often found in many desserts around the holidays,
such as Thanksgiving and Christmas (though no holiday is required to enjoy this fabulous ginger cookie recipe!) A blend of ginger, molasses, cinnamon and cloves gives this cut out cookie recipe a distinctive and memorable flavor that is enjoyed by all ages. Photo shows these cookies made as Christmas wreaths, but they can be cut into any shape (including gingerbread men), and can be eaten plain or topped with icing and/or sprinkles and other decorations as shown in the above photo. This cookie recipe makes a large batch of cookies, which gives you the opportunity to decorate (and/or cut) them in a variety of ways, adding color and fun to your presentation (and the kids will be glad to help!). This is a fun and very easy cookie recipe and will be a big hit at any social gathering!
Ingredients
Cookies

1 cup butter
1 cup granulated sugar
1 egg
1 cup molasses
2 tablespoons apple cider vinegar
5 cups sifted all-purpose flour
1 1/2 teaspoons soda
1/2 teaspoon salt
1 tablespoon ground ginger
1 teaspoon ground cinnamon
1 teaspoon ground cloves



Icing &/or Toppings (optional)

2 cups confectioner's (powdered) sugar
1 teaspoon vanilla extract
dash salt
light cream (or half and half)
any type of sprinkle decorations (commonly known as "cake decorations")
Directions
Cookies
In an electric mixer bowl, beat butter and sugar until creamy. Add egg, molasses and vinegar and beat until blended. In a medium mixing bowl, sift together dry ingredients, then add to butter and sugar mixture. Blend until smooth, then chill in the refrigerator for 1-3 hours.
Preheat oven to 375° F.
Transfer cookie mixture to a lightly floured work surface. Roll dough to a 1/8-inch thickness, sprinkling work surface, dough and/or rolling pin with flour as necessary to prevent sticking. Cut dough into desired cookie shapes, then place cookies 1 inch apart on greased cookie sheets. Bake 5-6 minutes. Cool slightly, then carefully lift cookies with a spatula and transfer to a cooling rack.
Icing &/or Toppings (optional)
In a medium mixing bowl, add vanilla and dash of salt to confectioner's sugar. Add just enough light cream (or half and half) to desired spreading consistency, stirring in between each small addition of cream until blended. (Note: If you accidentally make the icing too thin, simply stir in a small amount of confectioner's sugar until you reach desired consistency. If preferred, you can add food coloring to the icing (if using more than one color, simply divide the icing into as many portions as needed before coloring). Spread icing over cookies as desired and immediately sprinkle with decorations (if desired). (Note: Icing hardens fairly quickly, so it is important to add sprinkles while icing is soft and moist to secure decorations to icing.)
Other recipes you might like: