Iced Chewy Spice Cookies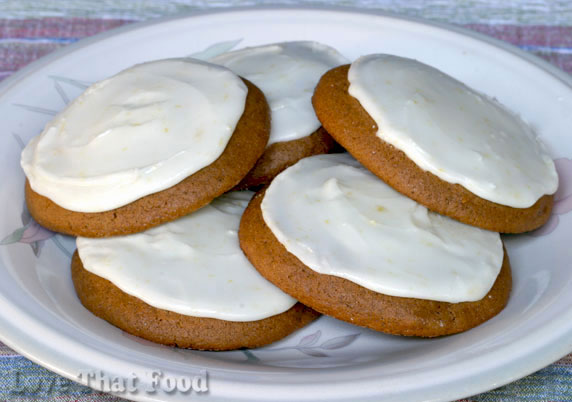 Cook Time:
6-8 minutes per batch
Tips:
To make cookie dough easier to form into balls, chill in refrigerator for about 30-60 minutes. When forming into balls and flattening with hands, to prevent cookie dough from sticking to hands, wet hands with running water, then lightly blot dry. Repeat wetting hands as needed to prevent sticking. Each cookie is about 70 calories.
Iced Chewy Spice Cookies are filled with those spices often celebrated around the Christmas, Thanksgiving and Halloween holidays, though these
cookies are of course great for any time of year! These chewy cookies get their distinct and festive flavor from ground ginger, ground cloves, nutmeg and allspice. The wonderful moist and chewy texture largely comes from the addition of a healthy dose of molasses and some applesauce, which also add powerful flavor. The texture of these unique cookies falls somewhere between a chewy cookie and cake, giving them a tender chewiness while allowing them to plump up evenly while baking.
The icing for these cookies is made with a combination of confectioner's sugar and a little milk, along with freshly squeezed lemon juice and lemon zest, giving it a nice citrus flair that counters the sweetness and nicely compliments the flavors of the cookies.
Ingredients
Cookies

1 cup sugar
1 cup molasses
1/4 cup applesauce
1/4 cup skim milk
2 tablespoons vegetable oil
1 teaspoon rum flavoring (optional)
3 1/2 cups all-purpose flour
1 1/2 teaspoons ground ginger
1 teaspoon baking soda
1/2 teaspoon ground cloves
1/2 teaspoon ground nutmeg
1/4 teapoon ground allspice
1/8 teaspoon salt



Icing

4 cups sifted confectioners' sugar
4 tablespoons plus 1 teaspoon skim milk
2 tablespoons freshly squeezed lemon juice
1-2 tablespoons grated lemon zest, depending on preference
Directions
Preheat oven to 375° F.
Cookies
In an electric mixer bowl, beat sugar, molasses, applesauce, milk, oil and rum flavoring (if using) until well-blended.
In a separate medium mixing whisk together flour, ginger, baking soda, cloves, nutmeg, allspice and salt. Add dry ingredients, one third at a time, to sugar mixture. Blend until a soft and smooth dough forms.
(Tip: To make cookie dough balls easier to form, cover cookie dough and chill in the refrigerator for about 30-60 minutes or slightly firmer.) Form cookie dough into 1-inch balls (or 1 1/4-inch balls for larger cookies) and place on greased baking sheets about 2 inches apart. Using your fingers, gently press down on cookie dough balls to about a 3/8-inch thickness. (Tip: To prevent dough from sticking to your hands, rinse hands under running water as needed, then lightly blot dry.)
Bake for 6-8 minutes, or just until cookies appear done. Remove from oven and allow cookies to cool on baking sheets for about 2 minutes, then remove and place on cooling rack. Once cookies have completely cooled, apply icing.
Icing
Combine all ingredients in a medium bowl. Stir until smooth. Apply icing to cookies. Allow icing to harden (about 30 minutes). Store in an air-tight container. When stacking, place sheets of wax paper in between layers of cookies to prevent cookies from sticking to one another.
Other recipes you might like: