Gingerbread Butterscotch Cookies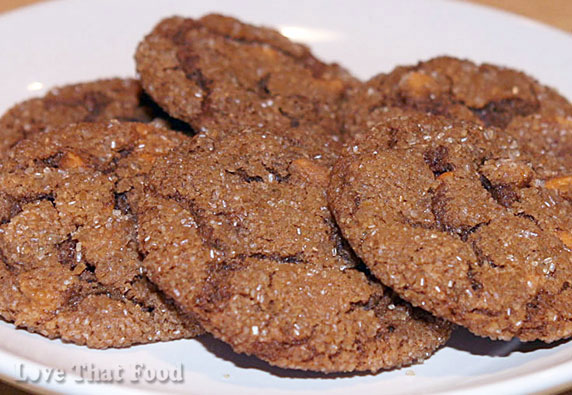 Yield:
About 4 1/2 dozen cookies
This easy Gingerbread Butterscotch Cookie recipe combines chewy and soft and gingerbread
cookies and marries them with the melt-in-your-mouth flavor of butterscotch, resulting in a chewy and full-flavored cookie that is like no other! To add yet another element of texture and flavor, these cookies are coated with coarse raw sugar before baking, giving them a nice outer crunch with every bite, as well as a pretty glistening effect. The flavors of molasses, ginger, brown sugar, cloves and cinnamon blend surprisingly well with the butterscotch morsels. With just the right amount of spice with the right amount of sweetness, these cookies are flavor-packed and truly fabulous! Gingerbread cookies are also always a perfect dessert to have handy around the holidays with all their traditional Christmas seasonings, but of course will be a huge hit at any occcasion, any time of year.
Ingredients
3 cups all-purpose flour
2 teaspoons baking soda
2 teaspoons ground cinnamon
2 teaspoons ground ginger
1 teaspoon ground cloves
1/2 teaspoon salt
1 cup butter
1 1/2 cups packed brown sugar
1 large egg
1/3 cup light molasses
1 (11 ounce) package Butterscotch Flavored Morsels


1/4-1/2 c. raw (course) sugar
Directions
Preheat oven to 350° F.

In a small bowl, whisk together flour, baking soda, cinnamon, ginger, cloves and salt. In an electric mixer bowl (you may mix by hand, but it's more work), add butter, sugar, egg and molasses and mix until smooth and creamy. Scrape all cookie dough from sides and bottom to be sure it all blends evenly. Gradually add flour mixture to the butter and sugar mixture and mix until well blended. Remove bowl from electric mixer and stir in morsels by hand.

Make 1 1/4-inch balls and roll in sugar. (Tip: If you are not able to find coarse raw sugar, you can use regular granulated sugar instead.) Place onto ungreased baking sheets and bake for 9 to 11 minutes or until cookies are lightly browned. Cool on baking sheets for 2 minutes, then move cookies to wire racks to cool completely.
Other recipes you might like: